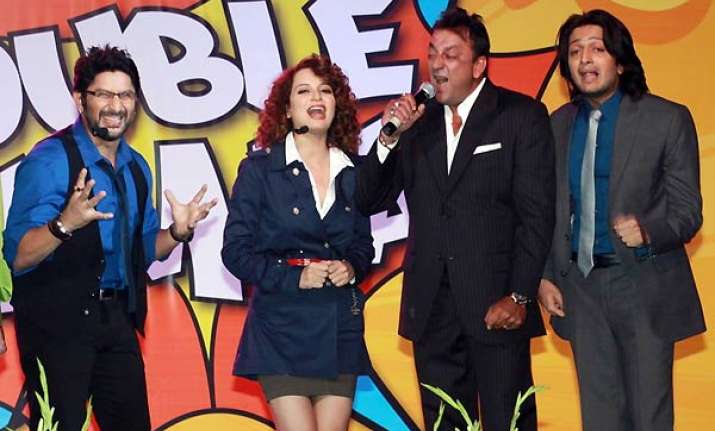 Bollywood starlet Kangna Ranaut's tempers were flying high on the sets of Inder Kumar's Double Dhamaal on Monday afternoon. She locked herself up in the vanity van and refused to come out and shoot.

Kangna was apparently upset over news reports insinuating that she was trying to get back into Sanjay Dutt's clan, says a media report.

The report quoting sources said, Kangna blamed the unit members of the film for spreading false stories about her. The cast was shooting at Mehboob Studios when the incident happened.

The report quotes a source: "Kangna was in a very bad mood. She walked in on the sets and went straight to her vanity van. Everyone figured she was upset, but they didn't think that she would actually hold up the shoot for the day. When an assistant director went to call her, she yelled at him and asked him to inform the unit she doesn't want to shoot."

It took over two hours to pacify Kangna. "She thinks someone from the unit was talking ill of her. She's maintaining distance from Sanju and trying not to entertain any loose talk. She is angry that in spite of that, people from the set were spreading gossip about her. So she locked herself in the van and refused to come out till an apology was issued."

Her strange behaviour led to the shoot getting delayed.

"Sanju was to report in the evening, but he was told to come late in the night as the entire shoot went for a toss."

Dharam Uberoi denied any such development, "This is not true. Kangna didn't throw any such tantrum and the shoot went as planned."