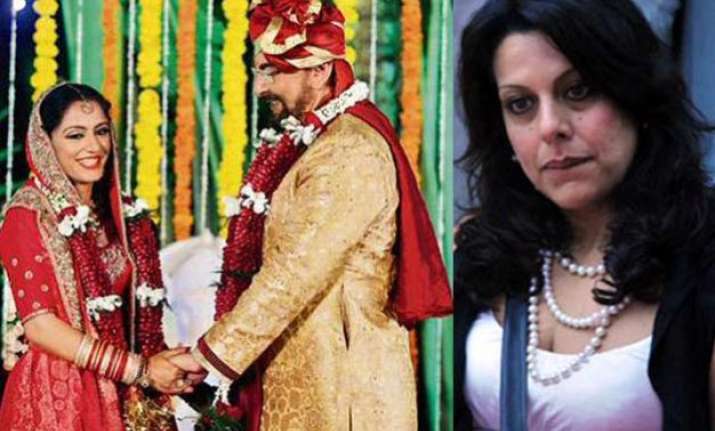 New Delhi: Former actress Pooja Bedi is very well known for being vocal about her feelings. She might be a forgotten silver screen celeb but her statements make it to the tabloids quite often.
Only yesterday, she said something about her father Kabir Bedi's fourth marriage which left everyone aghast.Pooja took to Twitter to say, "Every fairy tale has a wicked witch or an evil step~mother! Mine just arrived! @iKabirBedi just married @parveendusanj."
Well, that escalated quickly.

It should be noted that the 'Jo Jeeta wahi Sikander' actress was not invited to the wedding. It doesn't take a genius to figure out that she doesn't share a cordial relationship with Parveen Dusanj.
Kabir tied the knot with 40-year-old Parveen on January 16 this year, his 70th birthday.
Speaking to a leading daily, Pooja revealed, "My dad and I have had personal issues a couple of years ago. They could have been sorted, but they were seriously aggravated by the animosity between me and Parveen. I wasn't invited to the wedding".
After her tweet, which is being turned mean by many, grabbed media's attention, Pooja deleted it. Her next tweet read, "Deleted the last tweet on my dad @iKabirBedi 4th marriage. Lets keep things positive. I wish him the best!!!"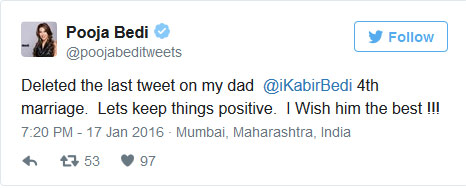 With such a start to the marriage, one can expect a lot of fireworks in this marriage of Kabir Bedi, courtesy her daughter's statements. All we can do is hope he has an amazing married life.