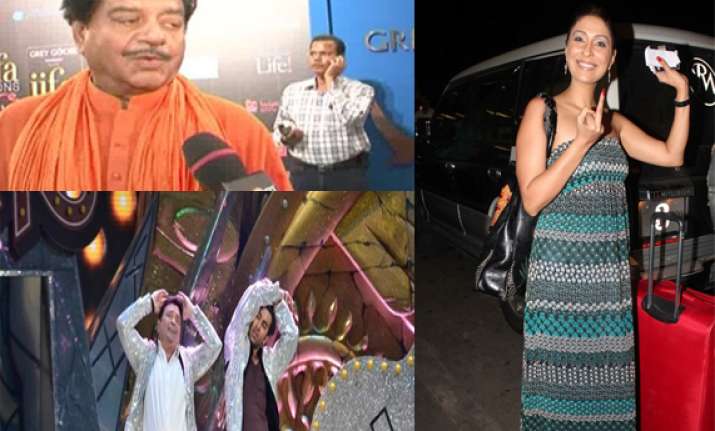 Singapore : With Bollywood biggies missing at the award function, IIFA 2012 was not only a flop, but a big, boring affair. 
Some of the disasters:
Pooja mishra's controversial act : Bigg Boss lady Pooja Mishra smiled and showed her middle finger at the airport in Mumbai, causing embarrassment.
Bollywood A-listers, Bachchans and Khans were missing: Amitabh Bachchan, Shahrukh Khan, Akshay Kumar,
Aishwarya Rai Bachchan
and
Saif Ali Khan
  were missing at the gala and it was a big disappointment to the auideience.
Though Sonakshi Sinha,
Bipasha Basu
, Prabhu Deva,
Priyanka Chopra
, Shahid, Rishi and
Ranbir Kapoor
gave some good performances, but it was not sufficient.
Ranbir-Rishi Kapoor:  Their performance was certainly the most awaited at IIFA this year as it was first time ever when the superstar father Rishi Kapoor came together with his "Rockstar" son Ranbir. No wonder, Rishi completely stole the public eye as he joined on-stage saying his famous dialogue, "Kya Tumne Kisi se pyar kiya."
Then, the father-son duo danced on the remixed version of the song Bachna ae Haseeno and other songs including "Paisa ye Paisa" from Rishi's 1980 film "Karz".
Ranbir Kapoor and Rishi Kapoor accidentally ended up wearing each other's jackets throughout their performance at the awards night.
Long speeches and announcements : Shatrughan Sinha kept talking about himself and his own upcoming film. He then addressed Rekha as "the OLD, gold, bold and beautiful Rekha," . Wonder why she didn't say 'Khamoosh'.
It adds that while talking about how the divine Rekha has been inspiring most young actresses, Priyanka Chopra left out mentioning Vidya Balan's name from the list.
Even veteran director Ramesh Sippy's thanksgiving speech turned out to be a long-winding affair.
First Javed Akhtar talked; then Rishi Kapoor went on, then Kamal Haasan.
Tamil speeches : Some of the actors made tamil speeches, making the message limited to a few members in audience.
"IIFA is one of the biggest award brands Bollywood has got, so even minor aspects get blown out of proportion," says Bollywood publicist Dale Bhagwagar.  
Dale  added:  "Instead, we should concentrate on the efforts, creativity, grandeur and toil behind such a mega event, rather than crib about little things that might not have worked out."