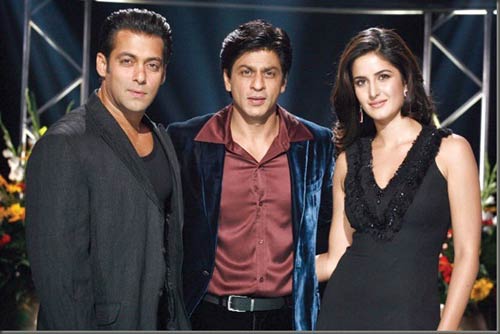 The widely reported wedding of Gutka barons' children Mayank Jain and Monika Arora took place on Thursday in Delhi with the Gutka barons requesting Salman Khan, Shah Rukh Khan and Katrina not to perform at the eleventh hour, says a media report.  
The Mayank Jain - Monika Arora wedding was going to be the most extravagant celebration in years - with Bollywood stars summoned for astronomical sums to do the dance numbers.However a twist of fate spoilt this showstopper, nixing the chances of these three stars to make some good money, says the report.  
Salman and Katrina, who were meant to perform on Wednesday at the Gutka baron's mehfil, and Shah Rukh Khan, who was to dance before select guests - all failed to show up. Salman was en route to Mumbai airport when he did a U-turn.
Katrina Kaif
, who had reached Delhi on Wednesday, also booked a flight back to Mumbai, says the report.  
Instead of this glitter, one spotted actors like Zayed Khan, Jacqueline Fernandes, Neil Nitin Mukesh.  Other actors at this event included Mugdha Godse, Sonu Nigam and Anjana Sukhani.Says a source, "Perhaps something transpired that led the families to say 'No' to the top actors."
Did the Aroras and Jains, both Gutka barons with bottomless pockets, want to cut down on the expenses? Was this display of wealth suddenly considered vulgar by authorities, thus prompting this forced 'austerity'?  
A media website reported that Bollywood stars including Shah Rukh Khan, Salman Khan, Katrina Kaif, Arshad Warsi,
Kangana Ranaut
, and Ameesha Patel refused to dance or attend the big fat wedding between the renowned Delhi gutka baron families on Nov. 18, because the  income tax department initiated an enquiry into the deals.
The income tax department is probing into which actors were involved in the wedding and how much they were being paid by the influential families.The website reported  that stars, who had earlier agreed to perform on the wedding, had taken half the amount from the families as an advance payment.
Reportedly, the gutka barons had locked the deal with Bollywood celebrities for a whooping  Rs 25 crore for a week long celebration in Delhi. While Shah Rukh Khan was offered Rs 4 crores, Salman Khan and Katrina Kaif were offered Rs 2 crore and Rs 1  crore respectively. Katrina was expected to perform at the sangeet and mehndi ceremony, while Salman was supposed to perform on Thursday at the wedding. Shah Rukh Khan was to attend the reception on Friday (Nov 19). .
Now that the stars have cancelled their plan to attend the ceremony, the question is whether they will return the advance money to the organisers.