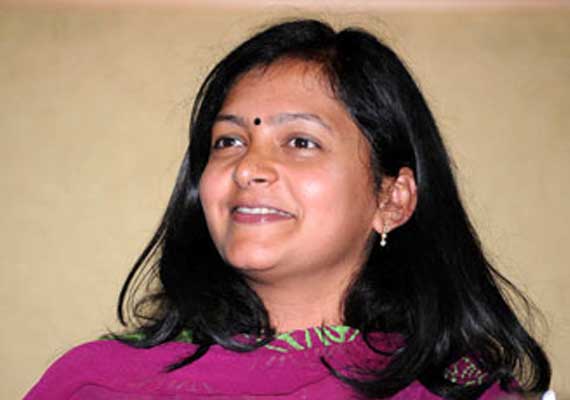 Chennai, July 28: It has been a tough journey for Neelima Tirumalasetti, a techie-turned-producer, who admits facing gender discrimination on a daily basis in the male-dominated film industry.
"Gender bias is something that is inbuilt into the human genes and mind. In a male-dominated industry, it is omnipresent. I face it every single day. Even during the making of 'Panjaa', I was acutely aware of this inequality," Neelima told IANS.
Neelima is one the few women producers in the industry, and she feels why there are less women in this field is "it's a male dominated industry and there is a certain stigma associated with it. I think it will slowly change as it's an evolution process".
In a span of two years, Neelima has learned that to survive, "Don't believe in anyone! There are a lot of empty promises being made here. Believe in yourself."
What keeps you going then?
"I think it's because I feel discriminated, I'm still in the industry trying my bit to change it. Like in every field, women have to prove their mettle before they are accepted into the main fold. I haven't given up and people are respecting me for that," she said.
She also feels that more than a creative person, producers are usually seen as moneybags.
Talking about the producers' image, she said: "The producer, unfortunately, for time immemorial has been relegated to the role of a cheque writer. In my current role as a producer, I did everything that was required to bring the movie to its release - from story to auditions to locations to marketing to business."
"A producer in my view needs to understand every facet of cinema and my experience with "Panjaa" taught me lot of things," she added.
Neelima turned producer with Pawan Kalyan-starrer 2011 Telugu action-drama "Panjaa", which received lukewarm response at the box-office.
That didn't discourage her from continuing her journey as a producer.
"I needed to prove to myself that I could be successful against all odds. I also remembered what Pawan Kalyan once told me - never worry about winning or losing. Continue to battle... Moreover, it was my first step into production," she said.
Post "Panjaa", which she co-produced with three others, Neelima has singlehandedly produced two Telugu films "Alias Janaki" and "Areyrey".
Neelima never dreamt to be a producer, then what inspired her to become one?
"My foray into film production was very fortuitous. I think it was destiny that made me a producer. That destiny has another name - Pawan Kalyan. It was during his stint with politics; I had a chance meeting him and that changed my life 180 degrees for good. Post that meeting, I joined his youth wing and worked closely with him," she said.
"When he moved away from politics and returned to films, I followed suit and landed an opportunity to produce a film with him. It was an opportunity that was truly god sent and went head long into that line of work," said Neelima, who holds a degree in computer science.
She would like to be the torchbearer for creative films.
"People can't be watching the same kind of cinema day in and day out. Hindi cinema has changed. There is a market for films such as "A Wednesday" and "Gangs of Wasseypur". I believe the time has come for Telugu cinema to change," she said.