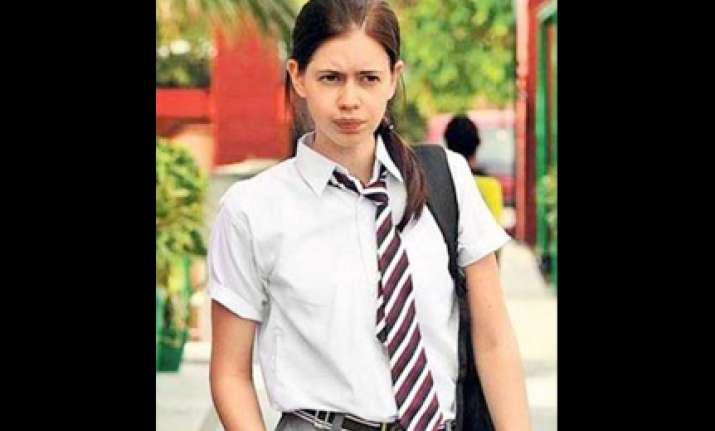 She charmed the audiences with her debut as Chanda, the innocent yet seductive child prostitute of 'Dev D', but Kalki Koechlin says that she is nonplussed with the 'sex symbol' tag attached to her. 
Born to French parents and named after the last incarnation of Lord Vishnu, Koechlin is no regular Bollywood debutante, and the 26-year-old actress's career graph is set to soar with her next project, where she is slated to star opposite veteran actor Naseeruddin Shah. 
"Being called a sex symbol is definitely flattering, but I'm clueless, it's weird," Koechlin who was in town for the ongoing Osians Cinefan Film Festival told PTI. 
The actress who has also co-written the yet untitled film, with boyfriend, director Anurag Kashyap says that he considers her a better dialogue writer than himself. 
"He thinks I am better at it because he gets too involved with other aspects of the process. The film we are working on is a edgy thriller. He had narrated the story to me a year ago and besides acting in it he also asked me to write it. So I did," said Koechlin who is excited about getting to work with Naseeruddin Shah in the film. 
"The casting has not yet been finalised though Naseeruddin Shah is a strong possibility. The talks are on and who can be a better co-star than Naseeruddin Shah," said the actress who majored in acting and scripting from the University of London before coming to Mumbai to strike out in Bollywood. 
But despite dabbling in script writing, Koechlin says that she has no plans to turn director, because she simply "lacks the talent". 
"No. I don't think I could ever direct anything, I simply don't have the skill for it. Writing is different because I majored in scriptwriting and I have a theatre background. Though I have never sat down to write or anything like that. I just go with the moment when I am writing, when something suddenly comes to you," said Koechlin. 
The actress who has been together with Kashyap for the past year and shares an apartment with the director, said that unlike many couples in the industry, she has never felt the need to hide the relationship. 
"Why should I hide it. I think when you keep something open and honest, it works better. I am happy right now and I have not yet started thinking about the future," said Koechlin whose other projects include debutante director Bijoy Nambiar's 'Shaitaan' and Kaizad Gustaad's 'Meter Down'. PTI