Follow us on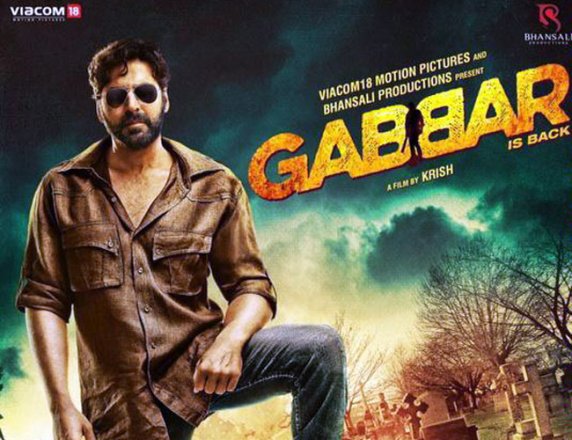 Akshay Kumar's Gabbar Is Back movie review
What's the story-
Gabbar (Akshay Kumar) is an unknown one-man force who is determined to flush out the corruption from our society. He decides to take charge as a social law maker on the brink of anarchy when all the formal faculties fail. He doesn't believe in scolding the corrupt, rather he believes in punishing them with death.
For the first time, corruption gets the fierce taste of punishment when a dozen of crooked Tahsildars are kidnapped. Out of these, the most dishonest one is killed while the rest are released.

Film: Gabbar Is Back
Cast: Akshay Kumar, Sunil Grover, Shruti Haasan, Suman Talwar and Jaideep Ahlawat
Director: Krish
Rating: ***
The message is loud and clear, if anybody is caught even bribing, Gabbar is out there to teach him a lesson.
He becomes an overnight hero for many while for others he is still a nightmare. Among them there is one wicked builder (Suman Talwar) who holds Aditya responsible for his son's death and wants to destroy him. Amidst all it's revealed that builder and Aditya have some old scores to settle.
What are the reasons? Why is it so that Gabbar is all out alone to fight the corruption? Does Gabbar have any other hidden agenda behind the selfless fight against the biggest evil prevalent in the society? Find it out yourself.
What works for the movie?
What sets 'Gabbar is Back' apart in the action genre is its unabashedly massy tone. Though the issues raised are cliche but they are so widespread in our society that the audience can easily relate to them. Director Krish, known in down south for his fashioning flamboyant fables, here exercises unexpected control when one least expects it. This is where this film about a self-appointed anti-corruption vigilante scores among the audience. It taps Akshay Kumar's unbound energy and harnesses it at key points of the narrative to underscore rather than over-punctuate the theme of corruption.
The dialogues (by Rajat Arora) may seem dramatic but these rightly raise our concern. Dialogues about a corrupt-free nation have the power to sway the masses with idealistic rhetoric. Swachh Bharat too gets its due that is compelling rather than corny in a sequence.
And to the character's good fortune, that are all well delivered by Khiladi Kumar. The way in which he delivers his lines on the rampancy of corruption, his conduct and his wry detached disdain for the corrupt, are all brought to the surface with a forceful equilibrium constantly at play. Akshay makes you sit up and listen(shut up/sit down??) without raising his voice against the questionable deeds. The lines flow with furious passion without getting flooded in bombast.
Akshay is a star-actor at the peak of his acting prowess. He exudes the kind of understated confidence while delivering his dialogues about the nation filled with corruption that requires a lot of self-control and inner confidence.
Background acoustics by Sandeep Chowta elaborate every sequence with high-octane melodrama.
What spoils the mood?
Had it not been Akshay Kumar the screenplay would have been more of a 'scream-play'. The characters, the twists and turns consistently cry for your attention. However, they have some sensitivity that redeems at times, without which Gabbar would have been just another loud and garish film about corruption in high-rise places where builders are the baddies.
Besides Akshay, it's Sunil Grover, known as the drag queen Gutthi on Kapil Sharma's comedy show, who plays a low-rank police constable with sobriety.
Jaideep Ahlawat, who is usually so riveting on screen, here seems uncomfortable in a CBI officer avatar. The villains are all clumsy cardboard cut-outs conveying the corrupt element with as much subtlety as an uncovered sewage.
The women are sketchily portrayed. Shruti Haasan as the leading lady plays a lawyer who is busy delivering homilies to Akshay and others rather than fighting court cases. Chitrangda pops up to do an awful item song that is poorly edited. Kareena Kapoor Khan in a cameo sings a romantic song with Akshay and perishes in a clumsily staged building collapse.
Final verdict-
Despite everything, the film survives to tell-a-tale that is relevant today. 'Gabbar Is Back' knocks the bottom off the action genre with a breathless ode to Swachh Bharat. The film may appear louder-than-life instead of larger-than-life but the tone is unapologetic massy. You can't change the disintegrating social order by being delicate towards it.  Akshay Kumar amazingly, through his bearded, brooding leadership, explains that.