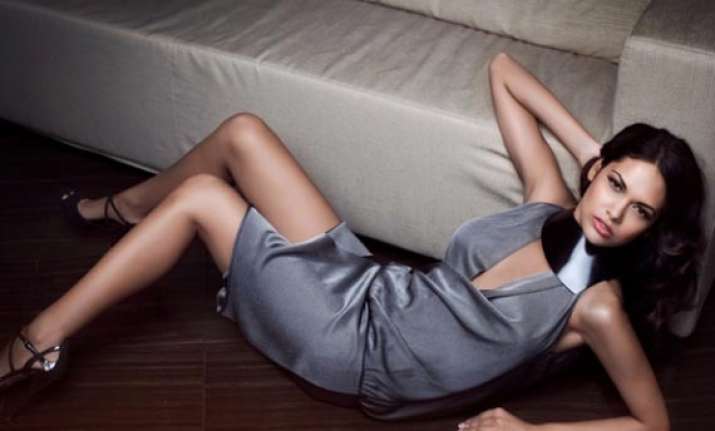 New Delhi, Nov 29: After working in films like Raaz 3D and Chakravyuh, Bollywood actress Esha Gupta, who turned 27 today, wants to star in a full-fledged commercial film now.
Having explored different genres with the three films she has done in her year-old Bollywood career, Esha is now looking forward to doing a masala film like Singham or Rowdy Rathore.
"Now I am looking forward to a doing full commercial film like Rowdy Rathore, Singham or Bol Bachchan, an action or comedy film in this genre," Esha told PTI.
Esha is spending her birthday working and she launched the flagship store of Shreem jewellers here today. She even received a surprise birthday gift as their brand ambassador.
"They gave me a really good surprise today on my birthday by launching the Esha collection. It's so sweet having a collection in my own name. The pieces are contemporary, elegant and beautiful. They got designers from Athens, Belgium as well as Mumbai to design this collection. It comprises rubies, diamonds and emeralds," said Esha.
It has been a good year for the actress with both Jannat 2 and Raaz 3D being successful, but Esha has no big plans to celebrate her birthday.
"I flew down to Delhi last night and spent time with my family, but I have to fly back to Mumbai tonight for work commitments.
I am happy that I am working, what more can I ask for? I never say that I want a vacation, because that means I am refusing work. I am glad that I'm working on my birthday," she said.
The actress is set to work with Vishesh Films again after Jannat 2 and Raaz 3D, but the next film is still in the scripting stage.
"I have a contract with them and I'll do three more films with them if I have to. But they are busy with the sequels to Murder and Aashiqui, so my film is still in a scripting stage," said Esha.