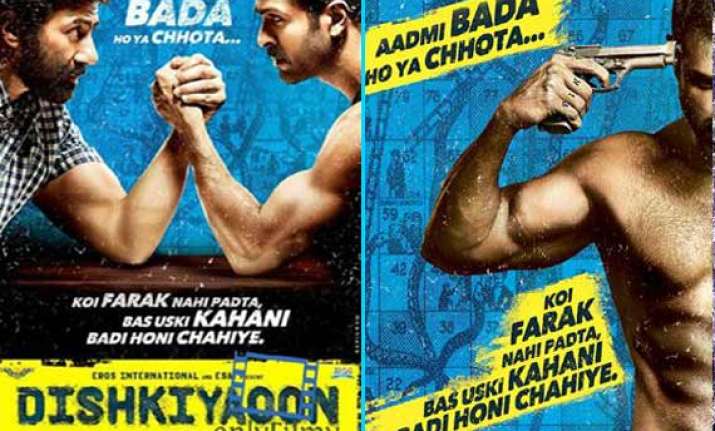 Dishkiyaoon has a lot of bullets but unfortunately none of them meets its target.
Stars- Harman Baweja, Sunny Deol, Ayesha Khanna, Prashant Narayanan
Director- Sanamjit Sarkar Talwar
Music Director- Palash Muchhal
Most of the underworld sagas have been successful in intriguing the viewers with its concept and display of events making a chain to give a final conclusion.
Sanamjit Sarkar Talwar the director takes one such concept in his directorial debut Dishkyaaon and serenades the story of one such desperate youngster who is keen to take on the mafia world.
The concept isn't new as there have been numerous flicks, which have narrated the rise of many such mafias who have independently brought a big terror to make the world insane. Although the script has its share of events, which surprise the movie goers in the mid of the flick but that doesn't even complete the one-fourth of its task of giving an appropriate doze of entertainment.
The story revolves around Viky (Harman Baweja) who has lost his mother. He is lonely in his world and is shown least care and love by his father due to which he takes an unwise route and finally enters the mafia world and joins Mota Tony (Prashant Narayanan) . Later he meets Lakwa (Sunny Deol) who turns him into a gangster. Viky is now Viky Katoos and is set to rule the underworld. Amidst all, he finds his true love in the name of Ayesha Khanna with whom he wants to spend a peaceful life.
But as destiny had it, Viky's U-turn proves dangerous for him and here begins his battle to come out of the mud filled with betrayal and conspiracy.
Undoubtedly, this Dishkiyaoon has a lot of bullets but unfortunately none of them meets its target. A compilation of stars, despite possessing brilliance in acting, proves to be a bunch of non-utilized material or say go waste with the bad one-liners.
Debutant producer Shilpa Shetty and Raj Kundra's decision of not roping in big stars could be identified as they couldn't have lifted up this flick with the storyline which goes berserk. And therefore the commercial risk would be lesser with the current actors.
Every character is arrogant and looks like as if it has been inserted for self-praising. The characters who were supposed to persuade us with their motive in the flick are mostly given back seats after their character development.
The fact-based theory doesn't work here and the storyline becomes predictable and boring. What wakes you up is the sound of the bullets, which bangs your head like a hammer.
Obviously, Mumbai lanes are once again the target of our director who utilises the riverside and roadside of the city immensely just to give an idea that it is still the epitome of terror and glamour.
Flourishing the latter, debutant Ayesha Khanna is at the core but nothing more comes out of her. Sanamjit's focus on chisel shed Harman and his act looks as if it's a re-launch of this doomed actor. Had the director given a bit more attention on the storyline and the treatment, Dishkiyaaoon would have been a different flick altogether.
Performance wise Harman shows a progress in his act, though still there are moments you feel he isn't is in Hrithik Roshan's get-up.
I wish there could have been more scenes of Sunny Deol, whose presence adds weight in the scenes.
Ayesha Khanna is decent considering her debut flick. Prashant Narayanan and Aditya Pancholi are well in their acts.
Music by Palash Muchhal is good. Soundtracks like Tu Mere Type Ka Nahi Hai, Tu Hi Hai Aashiqui are good.
Dishkiyaoon has a lot of bullets but unfortunately none of them meets its target.