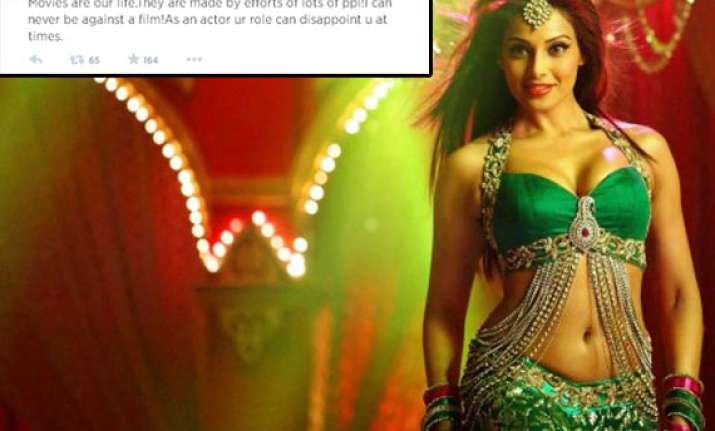 New Delhi: Bipasha Basu, who didn't mark her presence in any of the promotional activities of her upcoming flick 'Humshakals', has finally came out on the social networking site giving some shocking justifications over the buzz surrounding her and her team.
The actress in her tweet last night expressed her pain of being sidelined in the flick despite having a full fledged role as portrayed in the trailers.
Bipasha wrote, "This is 2 put an end to all d discussions around my absence for Humshakals promotions. @oyerjalok I take full responsibility of getting into this film only on the basis of trust, but after dubbing for my character in the film, as am professionally committed to do so ,I am ...extremely disturbed by the end result of the same. In these circumstances I honestly did not know how to promote the film and that's why I thought it was better to stay away."
Recently, director Sajid Khan tried to clam down media by saying that she is unwell but it didn't took him much time to change his statement which says, "the reason for not joining us is best known to her but we're okay with that".
Contradicting to that Bengali beauty's revelation on twitter has once again sparked numerous speculations about the tiff between her and Sajid.
What appears from her remarks is that the actress's sequences have been cropped down to minimum in comparison to her junior co-artists namely Tamannaha and Esha Gupta.
Whatever be the reason, the actress without blaming any individual person has wished the team all the best. "I am confident that the film will be true to it's genre and will be a full entertainer..... Bcoz of the ppl involved.I wish fox star studios with whom I had the biggest hit Raaz3 and Vashu Bhagnani who is a wonderful producer ...all the best. Wish all my costars Saif @Riteishd Tammanna Esha Ram Kapoor and the technicians all the best too. Sometimes certain journeys cant be completed n this is one of them- no 1 to be blamed, combination of things that made me disrupt my journey", tweeted Bips.
Two hours later, expressing her upset mood the actress quoted, "Movies are our life. They are made by efforts of lots of ppl!I can never be against a film! As an actor ur role can disappoint u at times."
'Humshakals' which also stars Reteish Deshmukh, Saif Ali Khan and Ram Kapoor in the pivotal roles is set to release this Friday on June 20th.