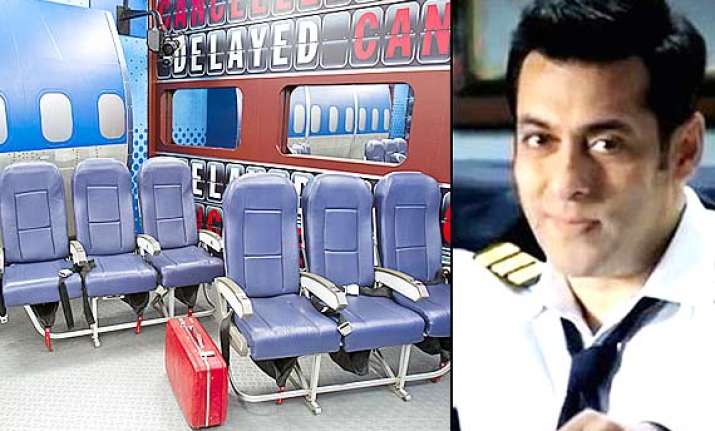 New Delhi:  Bigg Boss 8 is garnering all kinds of attention and while the speculations regarding the contestants this year are taking room all over, we have got something much more fascinating for you all. We have decoded the interiors of the latest edition of Bigg Boss.
Apart from
Salman Khan
and the various controversial participants, the interior of Bigg Boss house too is something truly much anticipated. Thematic conversions, intriguing concepts and colourful aura, one just cannot resist saying 'wow' after giving a glimpse to such a marvelous interior.
Be it the last year's visually stunning craft work inside the Bigg Boss house, or the otherwise patterns and hues contrasted to match the theme of the show, the experience of being in the house is doubled up with such majestic ambience.
Now since the theme of 'aircraft' has already been decided for the coming season as evident from the teasers, we tell you how the Bigg Boss 8 house is going to look like.
Firstly, for all those who were thinking that the concept of aircraft or airplane is something quite distinct, here's the news that the popular Celebrity Big Brother show had the similar concept in its 15th season.
The participants were made to live inside the house that had an interior of an aircraft. Designed in a way that gives illusion of similar sidewall panels, ceiling panels and overhead bins, the interior of the house gave an experience of relaxing in a luxurious airplane cabin.
To satisfy your current imagination, here follows a few pictures. Have a look to know how interesting would this year's Bigg Boss' house look like!
Meanwhile, the concept of converting a giant house into an aircraft for this season sounds absurd to some of the fans. So, it would be interesting to see whether the flight this year runs smoothly or has to be hampered in between much like the last year.
Bigg Boss 7 had a concept of 'Heaven and Hell' that was not taken well by the viewers and hence the other side of the house was damaged just to make the entire house one without any mid-periphery.
Now, since we have revealed closely how this year's Bigg Boss house is going to look like, do you think the audience would accept such an enclosed interior? Well, only future has a say on this!
For now, we too are waiting for the show to get aired with a deep sigh!