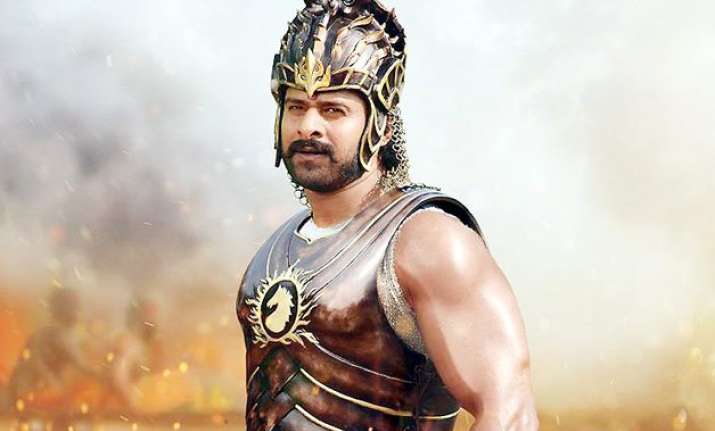 New Delhi:  Filmmaker SS Rajamouli's magnum opus -  Baahubali is set to release tomorrow but before it actually hits the screens, the lead actor of the film Prabhas spills beans about the making of the film and his character.
In an exclusive interview to thequint.com, Prabhas talks about being part of the Indian cinema's most ambitious project 'Baahubali', his double role in the film and the draining shoot of 200 days.
On being asking, whether he ever thought of being part of this huge project, the actor says, "Before Magadheera, I had 3-4 flops and Raja told me after Magadheera and one more film he wants to do a very big film with me. I loved the one-liner. I know him since ten years. He is like my guru. We discuss all his ideas; he had showed me visuals of Magadheera much before its release. We knew Baahubali would be bigger than that but I had no idea that it would be at such a large scale."
Prabhas who is shown flaunting his super human body in the trailer underwent a rigorous exercise routine to get the perfect body. Apart from rock climbing, sword fighting, the trainers from Vietnam made him and Rana Daggubati exercise for five hours everyday along with kickboxing.
Prabhas also reveals that the film was shot for 250 days and it was little frustrating, "While it was draining physically and mentally, shooting the film was exciting as well. During the film, I had to undergo a surgery. Ten days before that I was in a very frustrated, irritated mood and lost my cool 2-3 times. I must apologise to the trainers for that. We shot for action scenes for 100 days, despite all of that none of us troubled Rajamouli. We respect him too much to do that. "
Baahubali is about the story of two warring brothers for an ancient kingdom. It features Prabhas, Rana Daggubati, Anushka Shetty and Tamannah Bhatia in the lead roles.
The film, originally made in Telugu and Tamil, will also release in Hindi and Malayalam in dubbed versions on July 10.