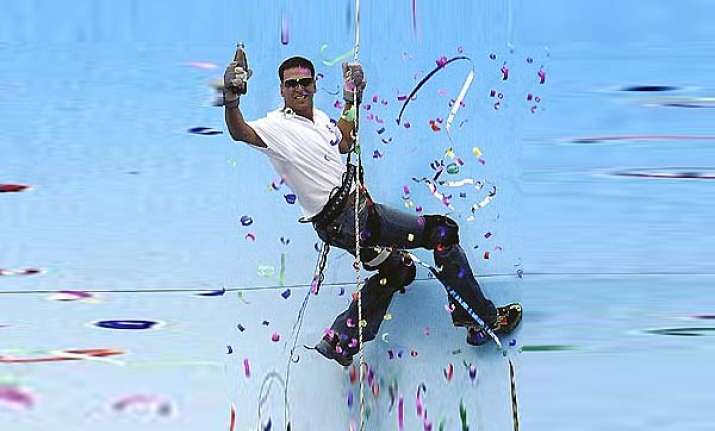 Bollywood star Akshay Kumar flirted with danger once again - this time while shooting a parachute stunt for his friend Sajid Khan's comedy film Housefull 2 in London, says a media report.

The very first shot canned for the Housefull sequel will have Akshay jumping from a great height with a parachute.

The shot will be filmed on the outskirts of London.

"Akshay has never done anything like this before and he's really excited. I'm cool because I know the greatest stuntman in the country will pull off the shot effectively. I couldn't have asked for a better first shot," says director Sajid Khan.

Akshay took free-fall tests to parachute into the opening scene. And since the shooting is to be held in a residential area special permits from authorities were  taken.

"The scene is integral to the story and not just a publicity gimmick. We've kept it strictly under wraps because with six cameras stationed on the sets, we want to capture people's reactions as Akshay jumps down from the heavens above," Sajid Khan added.

Apart from the 43-year-old Akshay Kumar, Housefull 2 also stars John Abraham, Rishi Kapoor, Randhir Kapoor, Asin, Zarine Khan, Shreyas Talpade, Jacqueline Fernandez and Mithun Chakraborty. The film will be co-produced by Sajid Nadiadwala and Eros International.