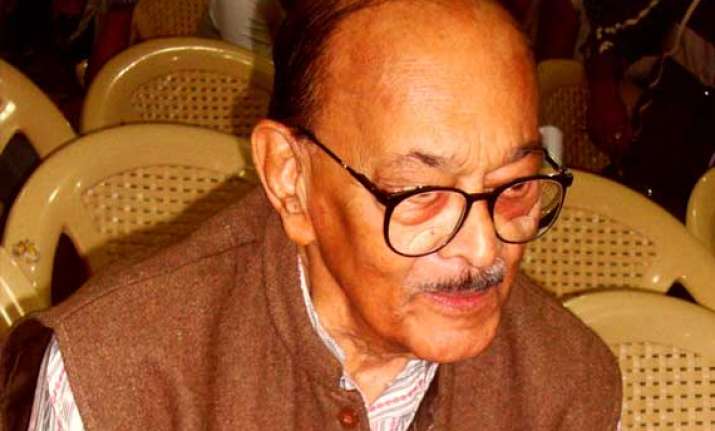 Bhubaneswar: Odia film actor Sarat Pujari died at his rented house here early Monday following a heart attack.
Odisha governor S.C. Jamir and chief minister Naveen Patnaik and scores of film celebrities from the state mourned the sudden death of the 80-year-old.
"He suffered a massive cardiac arrest at about 12.30 a.m.," his son Soumen Pujari, who is also an actor, told IANS.
Sarat is survived by his widow, two daughters and two sons. His last rites will be performed in the temple town of Puri, about 55 km from Bhubaneswar, later in the day.
Known for his versatile acting, he entered the Odia film industry in 1958 while serving as a teacher in a private college in western Odisha. He acted in about 50 films.
Some of the famous Odia films in which he acted as a hero include "Tapoi", "Asanta Graha", "Astaraga" and "Sadhana". He also played the lead role in a Hindi film, 'Aranyaka', directed by A.K. Bir.
In a condolence message, S.C. Jamir said: "The state lost a stalwart actor and ardent culture lover."
Patnaik said the state lost a talented actor and educationist.
For filmmaker Nirad N Mohapatra, the news of Sarat's death "came as a great shock".
"He was a young man at heart, an artist with a rich taste," said Mohapatra.
Famous Odia film actor Prasanta Nanda said: "I was a child artist when he was a star. He will continue to remain as my star actor."
Although some of Sarat's films were not commercially successful, they dwelt on the plight of farmers and reflected Odisha's culture and traditions.
Sarat retired as principal of state-run Sangeetha Mahavidyalaya in Bhubaneswar in 1994. He was serving as the president of the state-run Sangeet Natak Academy at the time of his death.
His last film "Pooja Pain Phulatie" was released in 2007. It had bagged the National Award for best feature film in Odia.
Besides films, he was closely associated with social work.
"His death has created a void in both the film industry and the social sector which cannot be filled," said Ranjan Mohanty, secretary of People's Cultural Centre, an NGO.
He was active until his death.
"On Sunday itself, he went to witness a drama in Rabindra Mandap, a city hall," Mohanty said. Sarat was very clear about the projects he wanted to do.
In an interview in 2007, Sarat had told IANS: "I never act in a film if I don't like the story. That is why I never acted in many films even though I was offered a role."