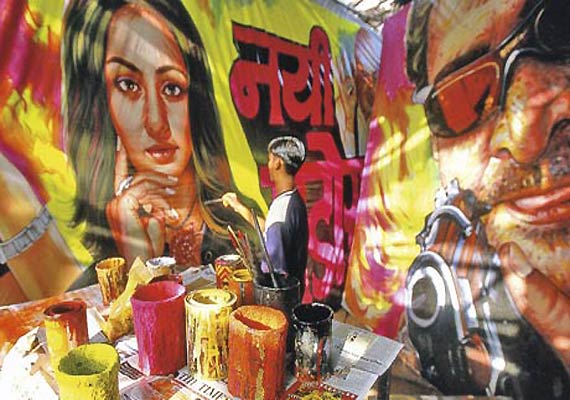 Mumbai, June 26: For decades, Bollywood film releases were accompanied by beautiful painted posters that decorated city streets all over India.

Heroic princesses, noble maharajahs and dastardly criminals, painted larger than life by artists and craftsmen in vivid colors, graced billboards towering often fifty feet high.

But where Mumbai, Bollywood's home town, used to have 300 such poster painters, now there remain only a handful.

One of them is Sheikh Rehman, a poster painter for 54 years who has witnessed his trade dying out thanks to cheaper and quicker digital production.

"The business is all about speed," he said. "It is also about money and hand-painted art doesn't fit in because of two aspects: it takes too much time and it is way too expensive."

New digital printers make short work of forty-foot billboards, he said, producing one in under an hour.

"That's something that a team of artists cannot match up to," Rehman lamented.

According to Mumbai-based Bollywood poster expert Hinesh Jethwani, "Many of our artists see the digital posters of today as equivalents of fast food and the hand-painted posters of the past as a lovely home-cooked meal by a mother."

He extends the analogy further, likening the hand-painted poster to a love letter "written with blood, sweat and tears. It coveys raw emotion and energy to the reader whereas the digital poster is like a digitally typed letter—it is lifeless"

The raw emotion of the film's characters would often be communicated in these posters through color, he said.

"If it was an angry young man like Amitabh Bachchan (Bollywood acting legend who rose to fame in the 1970s), they would paint his face red with anger and they would use techniques like painting over the canvas with a knife to give him a more rugged, macho look," Jethwani explained.

Those who love the craft are already in mourning for its glory days. S.M.M. Ausaja is a poster collector, film historian and author of the book "Bollywood in Posters."

He said: "It is a dead art form. It is not even dying. Unfortunately most of the posters from the 30s and 40s have perished. Very few are surviving and most people like me are desperately trying to preserve them, to get them restored."

He has traveled all over India looking for old billboards and posters, unfortunately finding many dumped in junk yards or moldering in run down or closed theatres. There is little interest, he said, in preserving what he sees as an important art form.

But all is not lost, as Jethwani discovered when he set up his company "Indian Hippy" in 2009. A collective made up of the last remaining poster painters, according to the company's website.

It aims to keep the craft going by offering bespoke services such as customized and personalized hand-painted Bollywood movie posters.

"These are people who love Bollywood and are completely mesmerized by the grandeur and glamour of Bollywood and want to be part of that. By making our own paintings, they get a chance to become a star on canvas," Jethwani explained.

"We want to preserve this culture in every way possible so that the coming generations can get a fair chance to understand what this art was all about and experience its magic," he added.