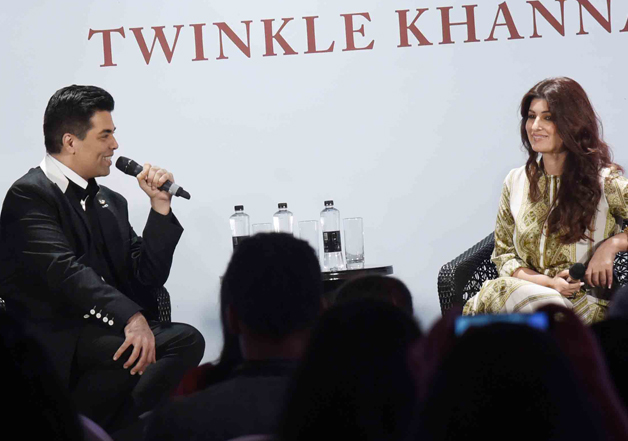 Actress turned author Twinkle Khanna is known for her witty remarks and leaving everyone dumbfound. At the launch of her second book 'The Legend Of Laxmi Prasad', her close friend and ace filmmaker Karan Johar fell prey to her antics when she asked him to give the full form of MNS.
It so happened that Karan was calling out actress Alia Bhatt to read a paragraph from the book. He refereed to the young actress as one who didn't know the name of President and still became a star.
While Karan was at it, Twinkle interrupted him and asked him the full form of MNS.
"Since he has asked you this 'who is the President?' I want to ask you something. So please tell me, what is the full form of MNS. Just answer that," Twinkle said, leaving everyone in splits.
To this Karan Johar said that he wouldn't want to make any politically correct or incorrect statements. He then said that he doesn't know what MNS stand for but knows what PMS is.
For the uninitiated, Karan and the political MNS were at loggerheads recently when the latter threatened to stall the release of 'Ae Dil Hai Mushkil'. The right-wing party had called for a ban and threatened to vandalise theatres if it screened the movie because of the presence of Pakistani actor Fawad Khan.
 But Twinkle did not fail to use this incident against her childhood friend Karan.
 This wasn't all. When the Mrs Funnybones of social media was thanking everyone who helped her during her journey, she referred to Karan as an Rs 100 note whose value you don't realise till it is crunch time.
 In fact, on stage when Karan prompted Twinkle to thank her husband Akshay Kumar, she said, "I am getting to it. It seems you love my husband more than me".
The friendship between celebrities Karan Johar and Twinkle Khanna dates back to their childhood. The filmmaker admitted in the past that the actress-turned-author bullied him right from their boarding school days. Viewers got a glimpse of what Karan went through since a kid on his chat show 'Koffee With Karan' when Twinkle left him dumbfound with her answers.
The book launch was a star studded event with Shabana Azmi, Ranbir Kapoor, Alia Bhatt reading out excerpts from it. While Twinkle has said that her second book is nothing like her first (Mrs Funnybones) the session between Karan and herself had all elements of the witty lady.