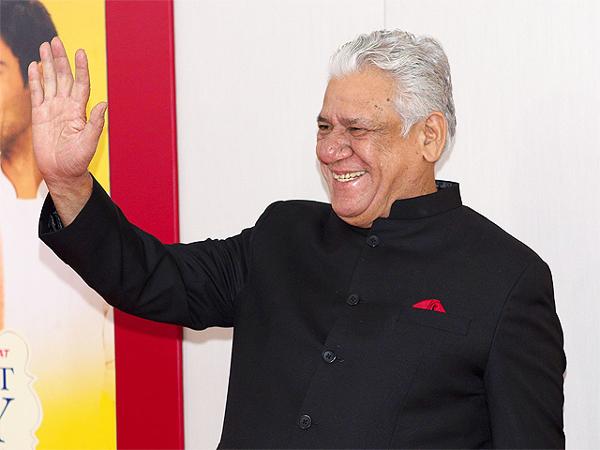 After leaving his mark on Bollywood, veteran actor Om Puri today passed way due to cardiac arrest. But, in his last interview, the actor talked about his death and said that after his demise, youngsters will watch his films and remember his work.
On December 23, 2016, Om Puri told IANS: "My contribution as an actor will be visible once I leave this world and the young generation, especially film students will watch my films."
The actor continued the interview saying that he considered 1980s and 1990s was the best time hard-hitting cinema. He praised Shyam Benegal, Govind Nihalani, Basu Chatterjee, Mrinal Sen and Gulzar's remarkable films.
Om Puri divided cinema into two parts saying that one is just for entertainment; the other touches your heart adding that both have their own purposes.
After the news of his death broke down, several B-town celebrities mourned on Twitter.
He worked in multiple projects with Nihalani and Benegal -- films like "Aakrosh", "Ardh Satya" and "Tamas" which catapulted him into the realm of great actors. Both the directors were overcome by emotions when IANS contacted them after news of Om Puri's death broke. In shaky voices, both said it was too early to talk.
He was -- as the biography by his former wife Nandita Puri -- rightly says, an "Unlikely Hero".
The veteran actor, a recipient of Padma Shri, started his journey as an actor with a Marathi film "Ghashiram Kotwal" in 1972. If he featured in some intense dramas, he also balanced out his filmography with movies like "Mirch Masala", "Jaane Bhi Do Yaaro", "Chachi 420", "Hera Pheri", "Malamaal Weekly" and more.
"There are two kinds of cinema -- one is just for entertainment, the other touches your heart. Both have their own purpose," Om Puri had told IANS.
When he was chairman of the National Film Development Corporation, Om Puri was focussed on encouraging meaningful films. The National School of Drama alumnus was also president of Cine and TV Artistes Association.
More recently, he featured in Bollywood films like "Ghayal Once Again" and "Mirzya", as well as in Pakistani film "Actor In Law". He even used his distinct baritone for the voice of black panther Bagheera in the Hindi dubbed version of Hollywood film "The Jungle Book".
Age did not slow him down. He was busy dabbling in multiple projects like "Viceroy's House", "Tubelight" and "Manto".
The two-time National Film Award winner was bestowed the Padma Shri, India's fourth highest civilian award, in 1990.
His international career took off as early as 1982 when he featured in a small role in Oscar-winning film "Gandhi". It also set the stage for him to explore more on foreign shores -- his British films were "My Son the Fanatic", "East Is East" and "The Parole Officer", and his Hollywood movies included "City of Joy", "Wolf", "The Ghost and the Darkness" and "The Hundred-Foot Journey".
In 2004, he was made an honorary officer of the Order of the British Empire for services to the British film industry.
While he had a glorious journey in the film world, his personal life went through turbulence. In 2013, his wife had filed a case against him, alleging domestic violence. They separated, leaving him with only visitation rights to their son, Ishaan.
He was frank and blunt about his views -- and just last year, he faced the brunt of it when a police complaint was filed against him for his comments that were found to be insulting to Indian soldiers. In 2015, he spoke on the issue of cow slaughter in India. In 2012, he had landed in a bit of a soup after he called Naxals "fighters not terrorists".
But Om Puri remained fearless till the end -- in his works and his words.
(With IANS Inputs)