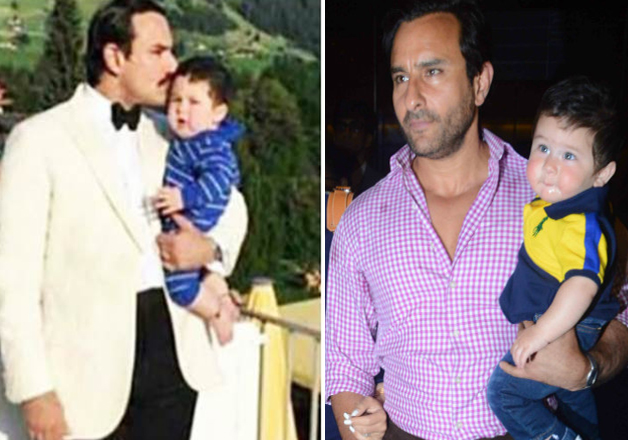 Bollywood actress Kareena Kapoor is back in shape and is busy in the shooting of Sonam Kapoor, Swara Bhaskar starrer Veerey Di Wedding. Although, the couple is busy in their respective professional commitments, Kareena and Saif manage to strike a fine balance with their personal life as well.
Kareena and Saif, who recently went on an abroad trip to London, also took Taimur along with them. Whether it is a personal outing or shooting schedule, the couple always keep their little munchkin Taimur along with it. While, Saif who is perfectly performing the responsibility of a father recently admitted that Taimur gets upset when his mom Kareena is not around. 
Recently during the Delhi schedule of Veerey Di Wedding, Kareena took Taimur along with her. Saif said, "During the first schedule of Veere Di Wedding, she took him to Delhi and I was very happy to be alone at home.''
Saif added said, ''I love being by myself but after a couple of days, I missed having them around. But I am not finicky as a parent. He (Taimur) is a part of my life and this is for the long haul. I like my space and I like having them around also."
Saif revealed this while talking to a leading daily. Kareena recently went for the second schedule of Veerey Di Wedding and Taimur was alone with him at home.  He said, '' In the second schedule, Taimur was alone with me and he was looking a little sad. But now he is happy that Kareena is back. The house also feels balanced because we need her energy."
Little Taimur Ali Khan bears a striking resemblance to the Kapoor khandaan! But who does he look like most: Kareena or Karisma? pic.twitter.com/1fDCmv0rs6

— Kareena Kapoor Khan (@KareenaOnline) October 9, 2017
Kareena Kapoor Khan is leaving for Delhi to shoot for #VeereDiWedding with baby Taimur by her side! pic.twitter.com/4UNMCH3Edq

— Kareena Kapoor Khan (@KareenaOnline) October 8, 2017
Kareena Kapoor, Saif Ali Khan and baby Taimur attend Soha Ali Khan's birthday party after watching Chef! pic.twitter.com/rKHZeL72qU

— Kareena Kapoor Khan (@KareenaOnline) October 4, 2017
  
Aww.. so sweet of little nawab! The little one is going to turn one in December, and we are all excited. His masi, Karisma Kapoor had soemthing to say on this.