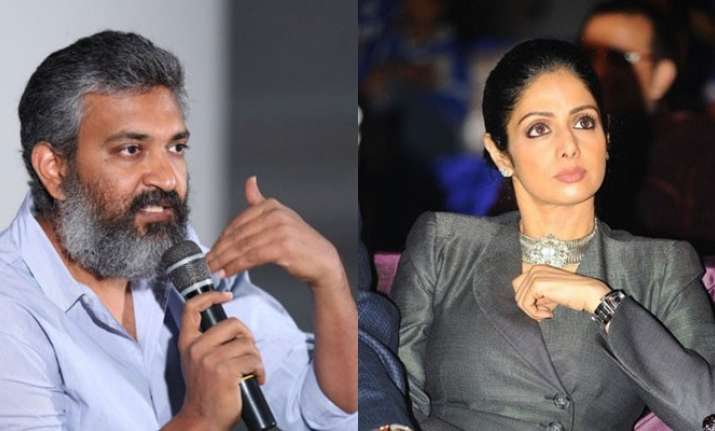 Sridevi rejecting the role of Sivagami in Baahubali: The Beginning and Baahubali: The Conclusion sparked several controversies. The filmmaker SS Rajamouli spoke about it in an interview and slammed the English Vinglish actress saying that she asked for 8 crores and, also demanded many VIP treatments. The Mom actress recently spoke about the ongoing matter and, said she was deeply hurt and saddened by Rajamouli's statement. Now, the filmmaker has responded to the controversy and, said that he regrets talking about Sridevi rejecting Baahubali in public.
In an interview with DNA, SS Rajamouli said, "As for whose version to believe, I guess it is for people to decide. But one thing is for sure. I shouldn't have discussed the details on a public platform. That's a mistake. And I regret it."
Also Read: Sridevi on rejecting Baahubali: Was hurt and saddened by SS Rajamouli's statement
Further, the Baahubali director praised the veteran actress for her great achievement in the film industry. "I have huge respect for Srideviji as a flag-bearer of the southern film industries in Mumbai for many years. I wish her all the best. And I wish Mom a big success as the trailer looks very intriguing and promising", Rajamouli added.
In a recent interview with Rajeev Masand, Sridevi spoke about the Baahubali issue and said, "But I would like to talk about this. It has become such a big issue and people are imagining things (as to why I have said no the film). I have my own reasons. First of all, two parts of Baahubali have come out, and now they are asking me. There are many films, I refused. Why are they not talking about it? Why only this film? I will go there and talk about it." Watch the video here.
VIDEO: My interview with @SrideviBKapoor on her new film #Mom, her daughter's debut & turning down #Baahubali - https://t.co/2lxCfB0mb7

— Rajeev Masand (@RajeevMasand) June 23, 2017
Sridevi's 300th film Mom hit the cinemas on Friday and, audience and critics are all praise for her power-packed performance in the film. Directed by Ravi Udyawar, Mom also stars Nawazuddin Siddiqui, Akshaye Khanna and Pakistani actress Sajal Ali.
For more entertainment stories, click here