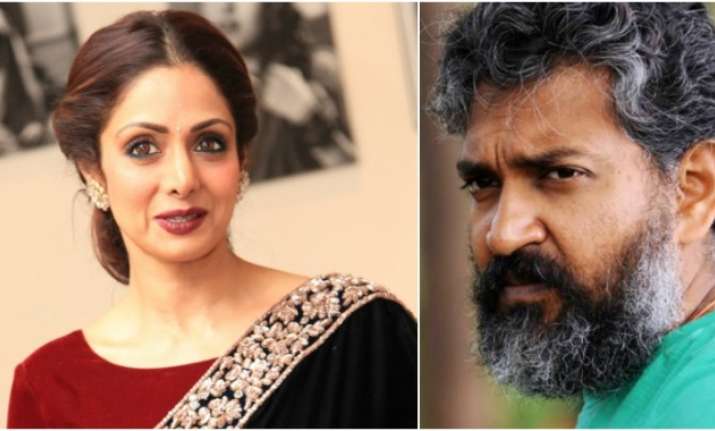 The role of Sivagami in both Baahubali: The Beginning and Baahubali: The Conclusion was offered to Sridevi first and not Ramya Krishna. While this surprising fact is out now, the reason behind the English Vinglish actress rejecting such a role has become the talk of the town.
Sridevi, who is busy promoting her upcoming film MOM across the country and the question as to why she refused to play Sivagami's role in the Baahubali franchise always pops up during her media interactions.
In an interview to a Telugu channel, Sridevi shared her feelings in detail over the controversy for the first time. "I could not be part of many films in my career due to various reasons. But I don't know why only this film is being talked about. Baahubali part 1 and part 2 came out and both became big hits. And I don't understand why people still talk about it," the actress said. 
"I never took anything about this matter to the heart. But, I saw a Rajamouli interview and I was shocked and hurt by it. I have heard about Rajamouli, he is a calm and dignified person. I have seen his movie Eega and was very happy to work with him. He is a great technician but the way he spoke about the issue made me feel very sad," Sridevi added.
In a recent interview with Rajeev Masand, Sridevi spoke about the Baahubali issue and said, "But I would like to talk about this. It has become such a big issue and people are imagining things (as to why I have said no the film). I have my own reasons. First of all, two parts of Baahubali have come out, and now they are asking me. There are many films, I refused. Why are they not talking about it? Why only this film? I will go there and talk about it." Watch the video here.
VIDEO: My interview with @SrideviBKapoor on her new film #Mom, her daughter's debut & turning down #Baahubali - https://t.co/2lxCfB0mb7

— Rajeev Masand (@RajeevMasand) June 23, 2017
Sridevi will be seen next in MOM, which marks 300th film in the industry. Produced by Boney Kapoor, the film is slated to release on July 7.