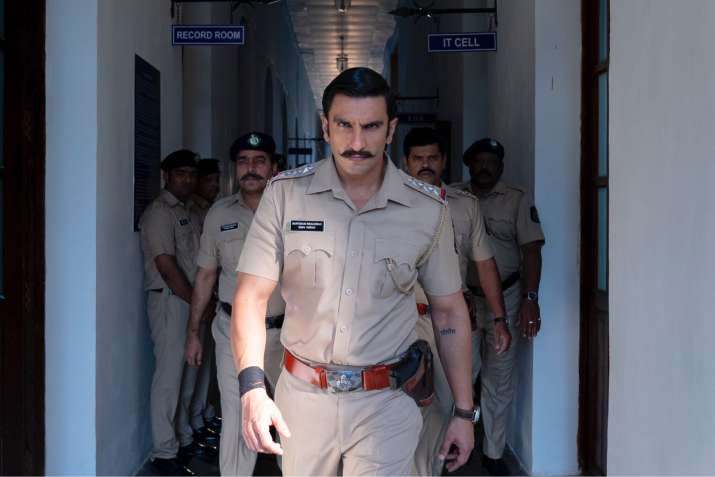 Ranveer Singh and Sara Ali Khan's film Simmba is all set to release today. With so many Bollywood biggies disappointing the audience this year, it's crucial to know whether this Rohit Shetty's masala entertainer manage to impress the audience, who is left with a bad aftertaste after so many disappointing Bollywood films. Directed by the king of family entertainers, Simmba is expected to open at Rs 20 crore at the box office, citing that it's a non-festival working Friday. However, the numbers are expected to rise during Weekend as it's the last week of the year 2018. Following the New Year festivity and holiday season, Ranveer Singh's Simmba is expected to rake in moolah at the box office. As far as the early reviews are concerned that are coming from the gulf, most of the people and film critics are impressed with the film. Let's see how Simmba fares among the Indian audience. 
Simmba Movie Review:
12:44 pm: It is an old wine in new bottle ! India TV gives 2.5 out of five stars. 
12:38 pm: Was there a hint of sequel at end? For this you have to come to theatre .
12:30 pm: Devgn's deadpan look and dialogue delivery style as Singham will make you nostalgic . Simmba has a social message wrapped in a solid mass entertainer form.
12:20 pm: As we witnessed a different treatment to the climax in Rohit Shetty's Singham, similarly, expect something unexpected from Simmba's climax treatment. You wouldn't like to blink your eyes post Ajay Devgn aka Singham's entry.
12:10 pm: The film written with dramatic elements in the story offers nothing special as we already mentioned. It is so much of drama that we have already seen before.
12:00 pm: We can say that the screenplay of Rohit Shetty's directorial Simmba is crisp, however, Simmba has nothing new to offer to its audience.
11:55 am: In the film, the courtroom drama enfolds and it is too loud. Such drama seemsto be influenced by Sunny Deol starrer Damini film.
11:39 am: The film touches the aspect of women empowerment.
11:15 am: Interval, finally! Rohit Shetty's film promises high-octane action sequences in the second half
11:00 am: Simmba is orphan, hence, he seeks love from strangers. He finds love in Sara Ali Khan. 
10:45 am: The film starts picking up pace after an hour .
10:30 am: Less dialogues more one-liners-This is Simmba's style.
10:25 am: Simmba is Ranveer Singh in real life, always high on energy. Sonu Sood's acting is subtle and impressive.
10:16 am: Everything is bit over in this film..even Ranveer's acting! 
10:05 am: Don't think he is Robinhood because he is not..Simmba wants love and his one and only love is money. 
10:00 am: Simmba is fearless and you get a glimpse of that in the beginning. He is ready to take panga with even deadliest of goons. Ranveer Singh's entry is extravagant and colourful.just like Rohit Shetty's sshytle
09:55 am: Aala re aala simmba aala re. Revisit Singham with Ajay Devgn! Flashback story gives you 70s wala feel. The background score is loud giving us typical Rohit Shetty feels! 
09:45 am:  Simmba has been receiving positive reviews from the audience who has watched the early shows of this Ranveer Singh starrer. 
Rohit Shetty does it again.. He gives Ranveer his career's biggest BLOCKBUSTER #Simmba.. What a lethal combination these two are.. I you really love commercial cinema then see it only in single screen.. Guaranteed seeti pe seeti every five minutes..
4.5 stars

— Amod Mehra (@MehraAmod) December 27, 2018
Entertainment in second half is very less as compared to first half due to the seriousness which it deals with thats why I called it bit stretching post interval but film picks up in the last 20mins like never before and delivers a bountiful film in these hours .#Simmba .

— Rahul verma (@RahulVerma4860) December 28, 2018