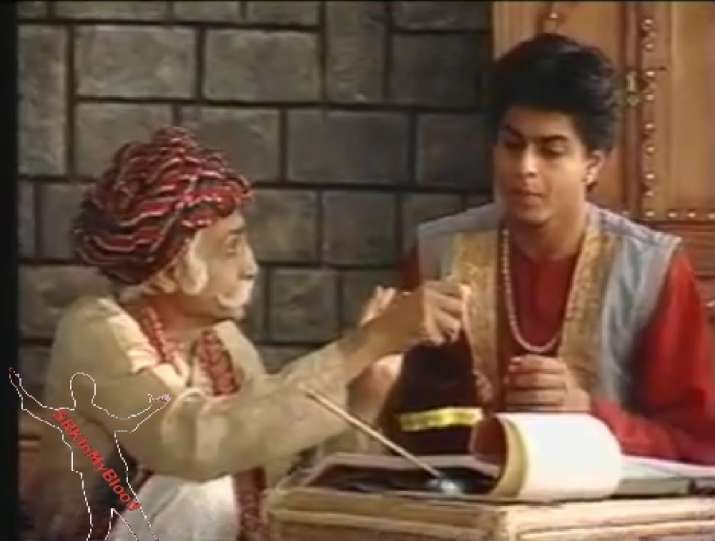 In the mine of Internet, a few days ago gold was extracted in form of a vintage video of superstar Shah Rukh Khan. Lasting 17 minutes, the short film titled 'Mahaan Karz' became a viral sensation. Though the classic video has been loved by all, little does anyone know of how the Badshah of Bollywood bagged the role? Well, not anymore.
If you too have been wondering over the same, we might have few answers including his fees. Shah Rukh Khan charged Rs 3000 for the role of Kunwar Singh.
The short film was directed by Dinesh Lakhanpal who in a conversation to a leading daily revealed all about SRK's coming on board.
When the project started taking shape, SRK had begun his journey as actor. He had worked in serials 'Circus' and 'Fauji'. Mr. Lakhanpal was designated the task of directing the movie by Alfred Allen Advertisers, producer Allen Luther. When the producers were brain-storming about the lead actor, Dinesh Lakhanpal suggested that they could hire the 'Lt Abhimanyu Rai' of 'Fauji'.
So when Mr. Lakhanpal, who is also an old friend of SRK from theatre, called him to discuss the movie, something unexpected happened. The director said,
"He told me that he had met with a minor accident and was advised rest for a week or so, but I can come to his place anytime to discuss the script and the film. As it was already late, more so in a city like Delhi, 25 years ago, I tried to fix a time for the next day."
He went on,
"SRK very casually told me to come right then, if I wanted, as he would be awake till wee hours. Bombay was different but in Delhi, it was unheard of. As it is, it would have taken me more than an hour to reach him, but he was cool."
When asked about how much SRK charged, Mr. Lakhanpal said that he was ready to do it for free. "He agreed to do the film and on being asked how much he would charge, as it was an one-odd low budget episode, he even offered to do it free, being a film on Easter", added Dinesh.
But when the producers forced him, Shah Rukh Khan agreed to take a salary of Rs 3000 for the movie. Obviously, this is way less than what SRK draws these days.