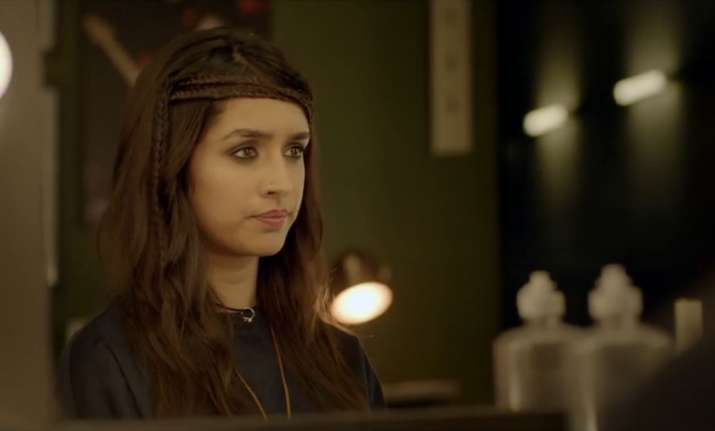 Actress Shraddha Kapoor is awaiting release of her upcoming movie 'Rock On 2!!' where in she plays the role of a singer who wishes to reach peaks of success. Prepping up to play 'Jiah' for the sequel was not easy for the actress and in a recent interview she said her character taught her how to be alone.
Belonging from a reputed Bollywood family, Shraddha never had to spend time all by herself and this is what the director Shujaat Saudagar asked her to do. During her conversation to a leading daily, Shraddha said Shujhaat knew that she has grown up in sheltered atmosphere so he wanted her to break free from that.
To perfect the role of Jiah, Shraddha spent a lot of time alone and said that she used to put up a 'DND' sign on her door. "This meant that no one could knock on my door and come in while the sign was up. I needed to do this because Jiah is very aloof. She taught me to be alone," said Shraddha.
Telling more about Jiah, who is a talented keyboard player and aces singing, Shraddha said that she is the kind of person who just packs her bags and leaves. She added that it was her love for music that helped her find a connect with Jiah.
Revealing the incident that drew her to the sequel of the 2008 hit movie 'Rock On', Shraddha said that when she had watched the movie she couldn't move because she was touched. It was then she told her father actor Shakti Kapoor that if a sequel of this movie is ever made she would be a part of it.
"When I heard the filmmakers were making Rock On 2, I called up Ritesh (Sidhwani, the producer), and said that I would like to be considered. He asked me to meet him and added that they mainly wanted to hear me sing," Sharddha added.
Though, Shraddha has lent her voice to few songs in her past movies (Ek Villain, Baaghi); 'Rock On 2' is the first movie in which she will play the role of a singer. When asked if she would take up singing as a profession, Shraddha said she would like to sing in all her movies but knows it isn't feasible.
Slated for a release on November 11, 'Rock On 2' will have actors Farhan Akhtar, Arjun Rampal, Purab Kohli and Prachi Desai reprising their roles from the first one.