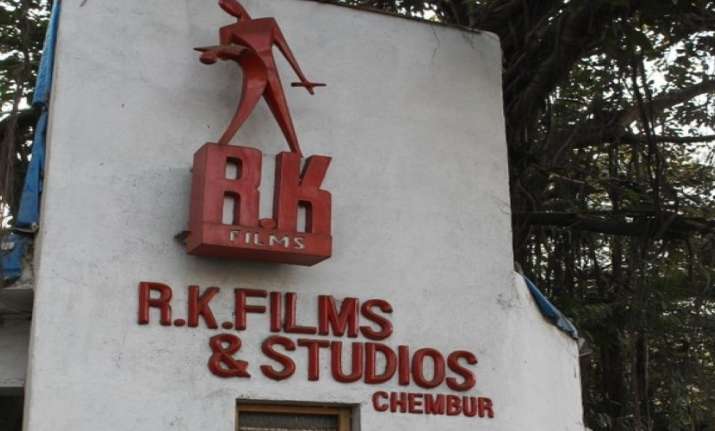 The iconic RK Studios which was built by veteran actor Raj Kapoor nearly 70 years ago is about to be sold by the Kapoor family. The decision has been taken with the collective agreement of actor's wife Krishna Raj Kapoor, Rajiv Kapoor, Randhir Kapoor and Rishi Kapoor. The family felt it wasn't practical to keep themselves latched to this two-acre studio who suffered a major fire last year in September. A team has been assigned to negotiate the sale of the studio among the prospective buyers.
Kapoor family, who has preserved every memento of Raj Kapoor has taken this decision with a heavy heart. Talking to Mumbai Mirror, Rishi Kapoor spoke on the behalf of the family. He said, "For a while, we did juggle with the idea of renovating the place with state-of-the-art technology. However, in reality, it isn't always possible for a phoenix to rise from the ashes. We Kapoors are very emotional lot but then…". Rishi Kapoor got emotional while talking.
He paused a bit and continued, "The investment in rebuilding the studio would just not have yielded sufficient revenue to keep it going. Believe me, we had to take the larger picture into account and take a level-headed decision. Even before the fire, for years R. K. Studio had become a huge white elephant, toting up losses. The few bookings we would get from films, TV serials and ad shoots would expect free parking space, air-conditioning and discounts."
The location of the studio is also a major reason why no filmmaker want to shoot in RK Studio. However, during the time of Raj Kapoor, renowned filmmakers including Manmohan Desai and Dev Anand's Navketan Films hired the place for shooting. Electricity was supplied to Chembur only and shooting was feasible at nights.
Rishi Kapoor added, "We brothers are strongly bonded. But who knows about our children and grand-children? What if differences crop up in the next generation? The studio would only end up in litigation as so many industrial and textile estates have. There would be family differences and only lawyers would end up charging heavy sums of fee. Do you think my father would have liked to see his labour of love becoming the subject of courtroom proceedings?" He further added, "True, there are so many wonderful memories, so much film history, but that would be like clutching on to straws in the wind."
When asked if Ranbir Kapoor would be interested in retaining his grandfather's memoir, Rishi Kapoor said, "If he has the money, let him buy it from us then. But seriously, that's a silly question. It's Ranbir's time to concentrate on his career, Sanju has validated him as a commercially successful actor."
Rishi Kapoor on Cartoon Featuring RK Studios Fire Tweeted "..We take objection to depraved sick humour"
For the uninitiated, RK Studios caught a major fire last year in September. It started from the sets of a reality show, Super Dancer 2. The fire devastated all the valuable treasures of the studio ranging from costumes worn by Raj Kapoor, Nargis to jewellery once donned by Aishwarya Rai Bachchan, clown mask of Mera Naam Joker and the guns of Jis Desh Mein Ganga Behti Hai. The grand piano of Awara and others were also a part of the things that the fire consumed.