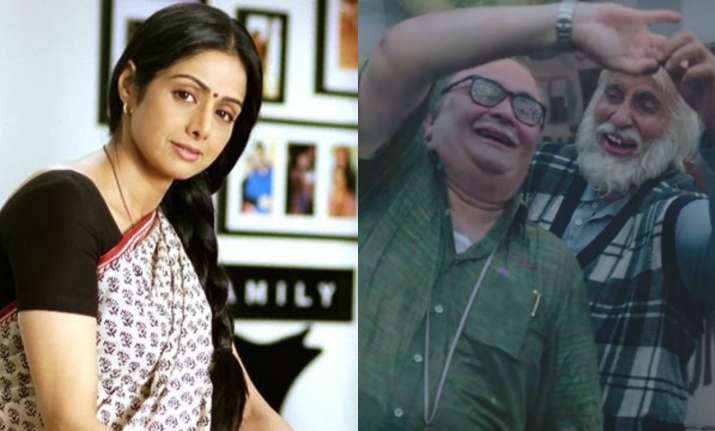 Shooting for the song titled Baadduummbaaa from film 102 Not Out has been cancelled following sudden demise of cine icon Sridevi. Director Umesh Shukla confirmed the news.
According to sources, the shooting for the song was scheduled to start on February 25 with actors Amitabh Bachchan and Rishi Kapoor. The song has been composed by Big B. Shukla said: "Yes as a mark of respect to the sudden and untimely demise of our legendary actress Sridevi, we decided to cancel our today's song shoot of '102 Not Out'. May God give peace to her soul and strength to her family."There is no word on the next date for the shoot. 
Amitabh's character will be seen as a 102-year-old father to the 75-year-old character of Rishi in the film. Billed as a most unusual father-and-son love story, the film is based on playwright Saumya Joshi's well-known Gujarati play by the same name. The film will release on May 4.
Apparently having a premonition Amitabh, Sridevi's co-star in half a dozen films including "Khuda Gawah", had tweeted at 1.15 am on Sunday: "I don't know, but I feel a strange sense of unease."
Sridevi, 54, passed away in Dubai late on Saturday night, plunging the entire country into a pall of gloom as her fans and admirers expressed shock and disbelief. The actress breathed her last on Saturday night at around 11 p.m following cardiac arrest. She was rushed to the nearby Rashid Hospital but pronounced dead on admission.
Sridevi was in Dubai to attend the marriage function of actress Sonam Kapoor's cousin Mohit Marwah, along with husband Boney Kapoor and younger daughter Khushi. The funeral is likely to take place on Monday, although there is no word from the family on this so far.