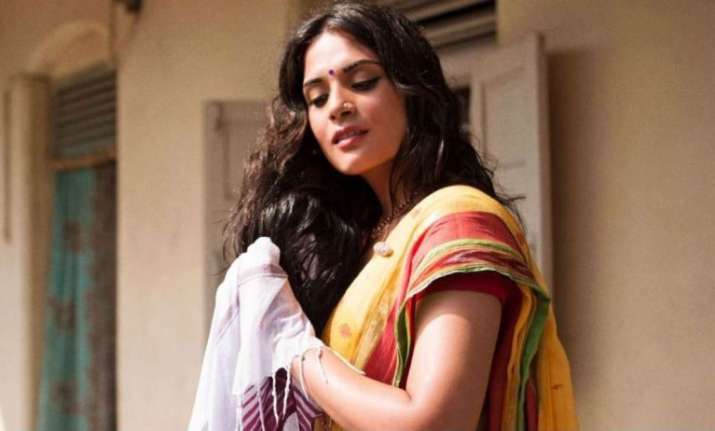 In the first look from the biopic on actress Shakeela, Richa Chadha flaunts a fresh avatar in a Kerala sari Kasavu Pattu. She says the movie will allow her to capture a range of looks as the story spans over a few years. Richa plays Shakeela in the film, directed by Indrajit Lankesh. The film will delve into the life of the glamorous actress, who has worked in Malayalam, Tamil, Telugu and Kannada language films since over two decades.
For the film, Richa has begun shooting in a small town in Karnataka called Tirthahalli.
On her look, she said in a statement: "The challenge for the look of the film but also a good one is that the story traces the journey of Shakeela's younger days to her becoming a popular figure.
"So, the looks span over years and years and with each passing time her look changed. To show that is challenging but also for me as an actor, it's gratifying that I get to grow with the real character on celluloid. Shakeela is still a legend and we wish to do complete justice to her when the film is ready."
Richa Chadha recently met South adult star Shakeela, who she is playing in an upcoming film, in Bangalore. A popular actor from the 1990s, Shakeela acted in several adult films in languages like Tamil, Telugu, Malayalam and Kannada. She shot to fame after starring in Play Girls alongside Silk Smitha, becoming an overnight sensation in a male-dominated industry.
SHAKEELA BIOPIC: Richa Chadha meets the adult film star Shakeela ahead of the film's shoot pic.twitter.com/8MVuYHPrjy

— manoj usdadia (@USDADIAManoj) July 21, 2018
Richa Chadha, who has already played an array of roles, proving her mettle each time, says the film is about a woman carving her own space in a male-dominated, patriarchal society. I wanted to meet her because I wanted her to trust me. Whenan actor plays a real person, there's a huge responsibility, as we represent that person," she says.
The shoot for the biopic is currently underway in Thirthahalli, a remote village in Karnataka. The film is expected to open in the theatres in 2019.