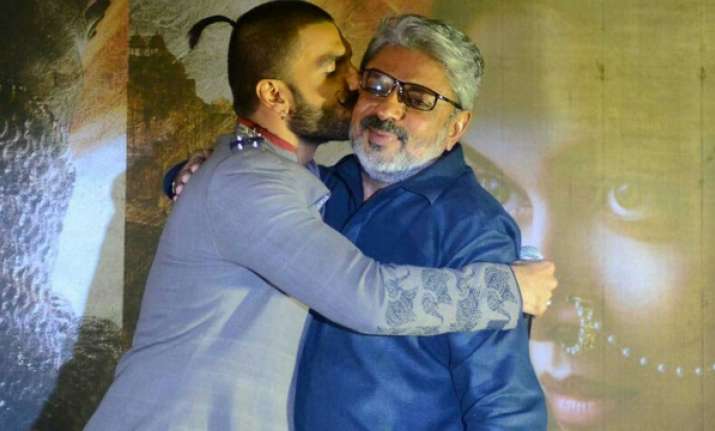 It seems that filmmaker Sanjay Leela Bhansali's 'Padmavati' will take a long time to wrap up. The movie which was supposed to go on floors last week is delayed again, and this time due to SLB's blue-eyed boy actor Ranveer Singh. Reportedly, Ranveer is asking Sanjay to run scissors through the role of co-actor Shahid Kapoor and tout it as a 'special appearance'. Apparently, Ranveer has refused to commence shooting till this happens.
Now, Ranveer's demands are one among the many he has already posted in front of SLB. Ranveer had earlier, reportedly, asked SLB to unveil posters of all the three characters differently. In fact, before this Ranveer has asked SLB to show him the script of 'Padmavati' to ensure his role is as meaty as Shahid's. The remuneration of the two actors had also become a topic of gossip, with none of the either settling for a thinner pay cheque.
This new demand by Ranveer puts Sanjay in a fix for more than one reason. As it happens, Shahid had agreed to be a part of 'Padmavati' only if he got a fair share of screen time. Shahid felt that at this point in his career he cannot settle for a guest role that to in a Ranveer Singh movie.
One of the plausible solution to get himself put of this knot is that, Sanjay Leela Bhansali can let go off Shahid and rope in a different actor for the role of Padmavati's husband. But, the filmmaker can not do that either since the lead actress Deepika Padukone, reportedly, doesn't want to romance a lesser known star.
Reports in media have it that due to these demands, Sanjay Leela Bhansali is not in good mood. He thinks that Ranveer should trust him that he will get a fair share in the movie, and just start shooting. In fact, pissed off with Ranveer thinking only about his self interest, Sanjay is pondering on not working with the actor again. In the past Ranveer and Sanjay have worked in 'Ram-Leela' and 'Bajirao Mastani' and reports suggest that 'Padamavati' might be their last.
Media reports also have it that Deepika is trying to make Ranveer understand to do the role without creating problems. In the magnum opus movie, Ranveer will reportedly play the role of Alauddin Khilji who loses his heart on Rajputana princess Padmavati Singh. Shahid will play the role of Raja Ratan Singh, Padmavati's husband.