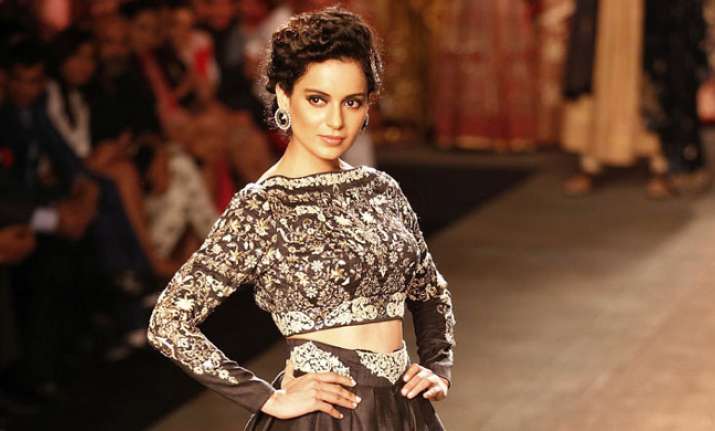 Actress Kangana Ranaut, who has seen quite an eventful career in Bollywood, has expressed desire to become a mother. During a recent event Kangana said that her maternity instincts have started to kick in.
"I think I have been fairly independent, but when you are in your late twenties, somewhere your maternal instincts start kicking in and you start to get that feeling very badly: 'I want to have babies'," the 29-year-old told during an interview.
Kangana went on to say she hoped to see that day.
In the interview, Kangana spoke about her Bollywood journey. Kangana hails from Mandi district in Himachal Pradesh and made her debut in 2006 with 'Gangster - A Love Story'. She has been appreciated for her performances in films like 'Fashion', 'Queen', 'Tanu Weds Manu' and 'Tanu Weds Manu Returns'. The three-time national award winning actress' next projects are 'Rangoon', 'Rani Lakshmi Bai' and 'Simran'.
When asked if her Bollywood career contributed in calming and making her patient, Kangana agreed. Kangana said didn't feel big fireballs in her stomach which she did while growing up.
Kangana added she liked to go to the film sets. She said she found a way to express herslf and it is not restricted to only films. Kangana said one could find that in her writing. She said an added that being a person in a creative field completed her.
Through her portrayal of the lead role in 'Queen', Kangana has rediscovered herself, taking risks and pushing the boundaries in her personal and professional life. It has also shut up those who used to point to her poor command of English and provided a befitting reply to media commentators who said she could not carry a film on her shoulders.
"I was someone who was very confused about what I wanted do, especially with the enormous energy that was almost on the verge of exploding. As a teenager, I did not know what to do with it, and hence the fights with parents." Kangana said. But she now realises that the energy only needed a creative outlet. "Unleashing of those forces into something creative was amazing. I am glad that I started to act, write and do other things like poetry." she said.
The journey from a rebellious teenager to a successful actor was all about understanding herself and sharing her ideas with the world, she says. The actress was in the capital to be part of Reebok's FiT To Fight awards where she felicitated some of 'unsung women heroes' from different walks of life. For her, being fit is the most important aspect of being alive. "When I am not able to exercise for days, or unable to meditate or eat without watching my diet, I literally feel dead. Everything just shuts down." she said.
(With IANS Inputs)