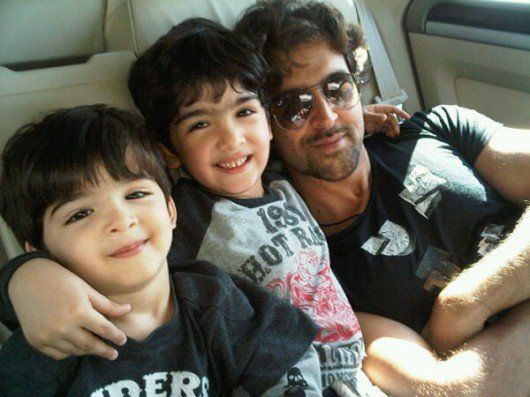 Bollywood stars generally carry a tag of not sparing enough times for their families, especially their kids. However, new age stars have redefined the profession – striking a fine balance between family and work. We have seen SRK be a doting father to his son, Akshay also manages time for his family, so on and so forth. 
The latest in this illustrious list is 'Kaabil' star Hrithik Roshan. The Bollywood heartthrob says when it comes to deciding things for his kids, he lets them take their own call. 
The 43-year-old, who has two sons Hrehaan and Hridhaan with ex-wife Sussanne Khan, says it is important to let children make their own decisions as this is the only to teach them the difference between right and wrong. 
"My kids have their own mind. I let them take their own decisions as it's important. Like if they fall they should be like 'I should listen to my dad more' or if they don't they shouldn't blame me either saying 'their friend went there but did not fall'," Hrithik said.
The actor says he has always made sure to be honest with his kids and that encourages them to be truthful to him. "I am very honest with my kids and so even they are honest with me. They rate me as an actor, they say if it's (film and my performance) is good or when it's not mind blowing." 

Hrithik says movies do interest his sons, but it is not the only thing they follow. 
"I don't sit and read myself so even they don't follow. They (kids) do lot of things like learning skiing, guitar, football it's nice. Childhood is best you don't have any tension and do whatever you want to do.
(With PTI Inputs)