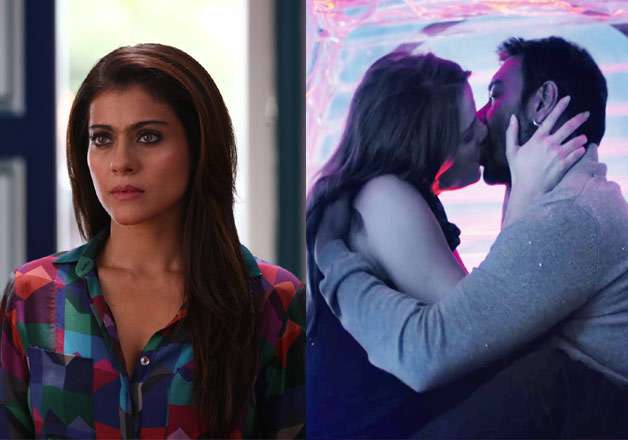 Ajay Devgn's much touted movie 'Shivaay' has hit the theatres and is receiving mixed reviews from the audience. The movie has been the talk of the town for a while now, not just because of the hype it has received given the magnificent locations and Ajay's breath-taking actions sequences, but also because of Devgn's steamy scenes in the movie.
Ajay is seen getting intimate with newcomer Erica Kaar in 'Shivaay'. Interestingly, this is the first time the 'Golmaal' actor has locked lips with anyone on the silver screen, hence breaking his 'no-kissing' policy.
While Ajay lip locks has created a lot of buzz in tinselvile, his wife Kajol isn't much pleased with him getting cosy with another lady on-screen.
Kajol, who had accompanied Ajay on 'The Kapil Sharma Show' for promoting 'Shivaay' confessed that the actor hadn't informed her about the steamy scenes initially.
However, it was only after Ajay shot the scene that Kajol came to know about it and she was indeed annoyed by it.
The actress asserted that being a loving hubby that he is Ajay did apologise to his lady love.
Nevertheless, those intimate scene did made her go mad at Ajay so much that Kajol felt like shooting her hubby just like she did to Shah Rukh Khan in 'Dilwale'.
Yes! It's true.
"Wo Dilwale ki gun yaad hai? Wo nikalne ka mann kar raha tha", said Kajol when Kapil quizzed her about how she felt watching Ajay getting intimate with another lady.
While it was quite evident that she said that in a humorous way but it was way too evident that the 'Dilwale' actress isn't comfortable enough about her man locking the lips with another woman even on-screen.
Earlier, Ajay Devgn had also clarified about why he chose to break his 'no-kissing' policy for 'Shivaay' saying it was the need of the script.
"I have never felt the need to kiss on screen before Shivaay, actually. There was no requirement for a kiss in a scene that way, if you know what I mean", he was quoted saying.
Also starring child actor Abigail Eames in pivotal role, 'Shivaay' is directed by Ajay Devgn himself and has earned a business of Rs. 2.30 crore in two days of release.