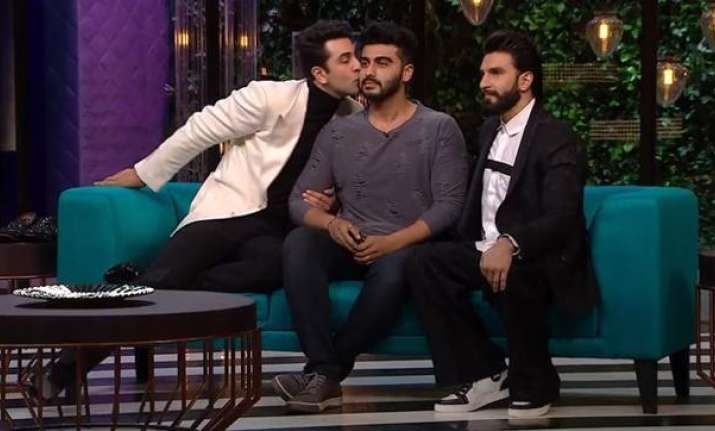 Actors Ranveer Singh and Ranbir Kapoor appeared on the previous episode of 'Koffee with Karan' and spilled some dirty details about themselves. From discussing about their sex lives to showing their X-factors by dancing on 'Chikni Chameli', both the actors didn't leave a single chance to entertain their fans. Here are some of the highlights from yesterday's episode.
Previously, it was speculated that there could be a moment of awkwardness among the two because of their common love interest Deepika Padukone but the two handsome hunks proved the gossipmongers wrong. In fact, they were seen appreciating each other's work. Ranveer even requested Karan to produce a film with both of them as leads.
Unlike Varun and Arjun, both the actors were quite vocal about their relationship status. Ranbir confirmed that he was single adding that he hates it whereas Ranveer showed his cool attitude saying that he is the best boyfriend ever.
'Kill Marry Hook-up', this is the frequently asked question on the show. Ranveer once again showed his affection toward Deepika saying that he wanted to marry her as she is a perfect marriage material. He chose to kill his ex-flame Anushka and decided to hook-up with Katrina. However, he apologised Ranbir after taking Katrina's name. No prizes to guess why?
Actor Arjun Kapoor entered the show and sat between his contemporaries. Both the actors had to react on the situation given to them by kissing him. From making out with actresses on the sets to sleeping with older women, the round revealed that Ranbir and Ranveer had done everything.
Arjun declared Ranbir as better kisser than Ranveer that left his 'Gunday' co-star disappointed. At last, Ranveer won hearts with his straight forward answers along with the rapid fire round whereas Ranbir defeated him in quiz round.
Needless to say, both the actors gave an amazing episode to their viewers. The next episode of the show will feature Parineeti Chopra and Aditya Roy Kapoor.