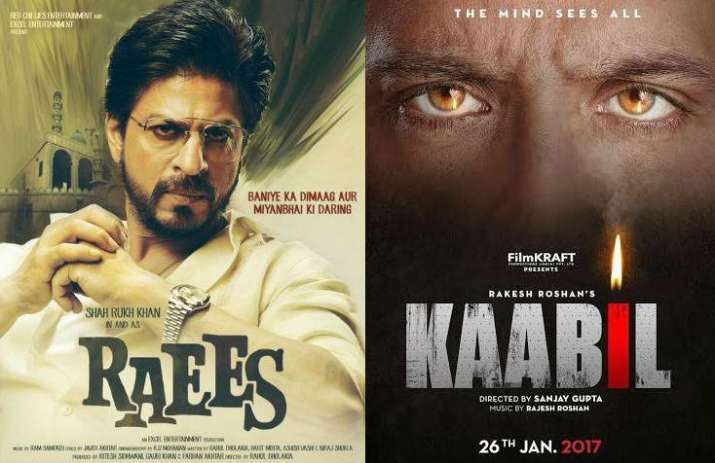 After the much hyped clash between Karan Johar's 'Ae Dil Hai Mushkil' and Ajay Devgn's 'Shivaay', the box office is gearing up for another inevitable clash of Shah Rukh Khan's 'Raees' and Hrithik Roshan's 'Kaabil'.
Both the movies are scheduled to release on January 26 next year. While there were reports that the makers of 'Raees' might postpone the release to avoid the clash, Farhan Akhtar seen no sense in delaying the movie further.
Farhan, who happens to be the co-producer of 'Raees', also accentuated that there isn't any clash happening as they are not competing with the 'Kaabil' team as Roshans are a family to him.
Instead, he hopes 'Kaabil' too does well at the box office if not better than 'Raees'.
Earlier, Rakesh Roshan was said to be quite miffed with 'Raees' releasing on the same day as 'Kaabil'. He even cited it as unethical on the part of the makers of the SRK starrer as Kaabil's release date was announced first
However, Akhtar feels that at times a clash is inevitable, saying "There are just so many Fridays in a year. Then there are those weeks like the shraadh or pre-Diwali and pre-Eid when one can't release one's film. So where does one go?"
He further stated that he doesn't think a clash hampers the collection of the movies until and unless they both are 'good films with solid VFM (value for money)'.
Citing the examples of previous box office clashes, Farhan said that there is room for two movies to do well. He even quoted the clash of 'Dilwale' and 'Bajirao Mastani', which was released on the same day and did a decent business.
Earlier, Hrithik Roshan had expressed his concern over the clash and said the both the movies are likely to suffer a little. However, he also averred that if the movie is destined to succeed, nothing can stop it.
We wonder, if the two movies will bring along any collision drama before their release next year.