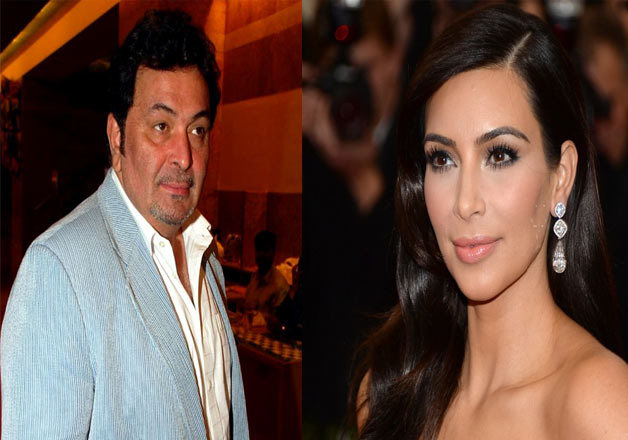 Veteran actor Rishi Kapoor has been lately making waves on Twitter with his acerbic wit and scathing sense of humour.
From giving back to the persistent fans of his son Ranbir Kapoor, to his 'Baap Ka Maal' comment on  Nehru-Gandhi dynasty, to his beef remarks or the recent one on Hillary Clinton, Kapoor is getting more attention on Twitter than his films.
Kapoor who made his screen debut with 'Mera Naam Joker' went on to become a big star as he churned out some of the most successful films in Indian Cinema like Bobby, Karz, Heena, Deewana and so on.
Lately, he has been doing character driven roles but the veteran actor is having gala time on Twitter as he has got a strong 1.18 million.
Now the latest celeb to come under Kapoor's scanner is none other than reality star Kim Kardashian. Kapoor shared a meme comparing Kim Kardhashian to a mesh bag of onions.
Kapoor was at the receiving end of social media trolls after he tweeted a joke on Democrat Presidential nominee Hillary Clinton which went terribly wrong.
Rishi Kapoor tweeted a meme which was apparently shared with him by Abhishek Bachchan. The meme had a picture of Hillary Clinton coughing against the mike and the text read, "Monika, is this right?"
We bring to you some of the most famous and infamous tweets of Rishi Kapoor:
Onions in a mesh bag! pic.twitter.com/YXCXPJV3iN

— Rishi Kapoor (@chintskap) August 7, 2016
History being checked! Tx for it ABjr. If it wasn't RIGHT,it would have LEFT a bad taste pic.twitter.com/p6MmEnC5uh

— Rishi Kapoor (@chintskap) July 27, 2016
Change Gandhi family assets named by Congress.Bandra/Worli Sea Link to Lata Mangeshkar or JRD Tata link road. Baap ka maal samjh rakha tha ?

— Rishi Kapoor (@chintskap) May 17, 2016
Make up,lipstick,eye shadow,jewellery et al. for discourses? Is that my friend Bappi Lahiri without his glasses? pic.twitter.com/jSaa8GML9F

— Rishi Kapoor (@chintskap) August 7, 2015
"@chintskap: Buy two get one begging bowl free. Sale at Zara's pic.twitter.com/FHXnTt9Nlk" haha!!!!!! Chintuji you are hysterical!!!!

— Karan Johar (@karanjohar) June 27, 2016
April 21, 2015
This was fashion back then. Goodness gracious pic.twitter.com/AUYZxz9087

— Rishi Kapoor (@chintskap) August 5, 2016
I am angry. Why do you equate food with religion?? I am a beef eating Hindu. Does that mean I am less God fearing then a non eater? Think!!

— Rishi Kapoor (@chintskap) March 15, 2015
Requesting Ranbir's Mumbai City FC to adopt BabaMessiDev in the team! pic.twitter.com/qW9vN0HTau

— Rishi Kapoor (@chintskap) July 25, 2016
Why have newspapers started this half page business? It is so uncomfortable to hold whilst reading. It falls off. pic.twitter.com/qQi4rL7uL2

— Rishi Kapoor (@chintskap) July 23, 2016