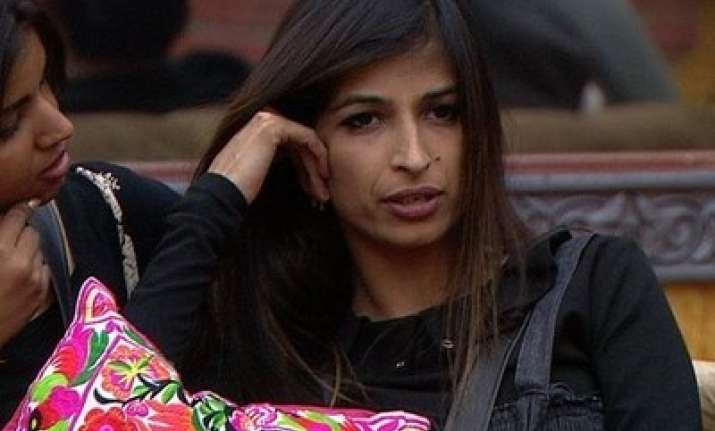 Bigg Boss season 10 began just a week ago and the first elimination came out as a shock for both celebrities and Indiawale. 
Priyanka Jagga, one of the loudest Indiawali contestant was eliminated from the house on Sunday.
Besides Priyanka, celebrities Gaurav Chopra and Mona Lisa and Manu Punjabi from the Indiawale were nominated for eviction, but got saved this time.
This vote out was quite surprising as trouble makers or the loudest contestants are likely to remain inside the house for a longer period of time. 
While the first week inside the Big Boss house which was all dominated by Indiawale, especially Priyanka Jagga and Swami Om Ji Maharaj,  made celebrities believe that one among them could get voted out and face the first elimination from the house, but it was actually Priyanka Jagga who was voted out. 
The elimination might have given a sigh of relief to the celebrities but Indiawale are left in shock after Priyanka who did everything to be in camera was voted out.
But as the host of the show Salman Khan said, all what Priyanka did to keep the camera's eyes on her went beyond the normal level. Hopefully this could be a wake-up call for celebrities to buck up  while it has made Indiawale understand that it is important to take a stand but only for a sensible issue. 
After Priyanka came out of the house, she interacted with Salman, who asked her that what could have gone wrong that she was voted out despite playing the game so well. To which she admitted that she went overboard in just to get noticed by the viewers.
"Nobody in the house took a stand besides me, but then yes, it's difficult to understand the game from outside. It's a completely different scenario when you are inside," she added. 
To add more twist, Big Boss finally declared celebrities, who have been serving as the sevaks of the house for more than a week as Maliks of the house.
In the past the celebrities got several chances where they could turn the tables inside the house, but they were not able to do that and failed miserably.
Before this week's nominations, Indiwale were also seen making some plans and breaking the prime rule of the house.

 

As a result, Bigg Boss decided to punish them and make celebrities the new Maliks of the house. After which celebrities celebrated their new Malik status and Indiawale were taken aback.