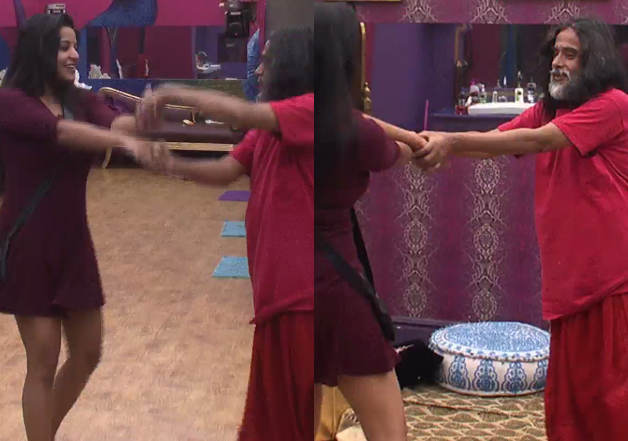 The high-octane reality TV show 'Bigg Boss' was renewed for the tenth season last month. Since its inception, this season has been headlining for many reasons, largely because of the fierce competition between Indiawaale and celebrities. While the two are at loggerheads since the start, it seems celebrity contestant Monalisa has moved beyond bitterness.
In today's episode viewers will see Monalisa dancing with Om Swamiji in the house. Apparently, the Bhojpuri actress thinks that the self-proclaimed Godman is her 'saathi' (friend).
Here is a glimpse of their dance for you:
.@MonalisaAntara feels that #OmSwamiji is her saathi. Watch them dance away to glory tonight at 10:30 PM only on #BB10! pic.twitter.com/ziC6FlrYIG

— Bigg Boss (@BiggBoss) November 4, 2016
With Mona getting close to another India-waala, it is to be seen if her co-celebrity contestants will be pleased or not, Earlier this week, Monalisa's proximity with Manu left celebrities miffed.
Now, her closeness with Om Swamiji might start sparks again.
Notably, among the celebs it is Monalisa who has been seen getting close to commoners the most. It was reported that maybe she feels left out in her group after she was sent to the jail.
In fact, celebrity contestants VJ Bani and Gaurav Chopra will be seen discussing Mona's stand in the house. They will be seen talking about groups in the celebrity contestants. They will talk about how the two groups have been formed, one including Lopamudra, Rohan and Rahul while the other having Bani, Gaurav and Karan. Gaurav will then tell Bani that such situation puts Mona in a tough spot.
.@Gauravchopraa & @Bani_j feel @MonalisaAntara is in a tough spot due to the groupism in the celeb team #Video #BB10 https://t.co/gMyXsWtLLv

— Bigg Boss (@BiggBoss) November 4, 2016