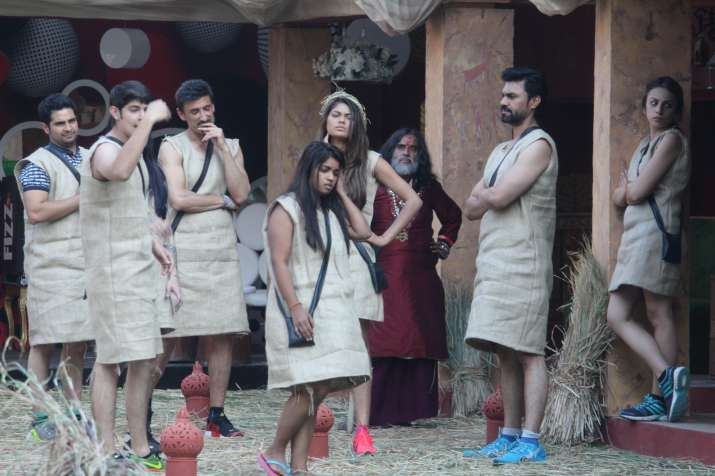 The luxury budget task for this week in the Bigg Boss house will tell a tale of riches to rags. In today's episode, viewers will see that inmates will wake up to find all their items missing. Other than their own items, Bigg Boss has also cleared the kitchen leaving nothing to the inmates.
Shocked contestants would be then told by contestant Gaurav Chopra that this is a part of this week's luxury budget task. The inmates will be told by Gaurav for the task titled, 'Lock Down – Their essentials' will send them to nomadic era for survival.
Here is how the entire task will go down:
Bigg Boss will confiscate all belongings of the inmates and lock it in a container. The inmates will be then divided in groups of two, led by Rohan Mehra and Monalisa respectively. Rohan's team will have Manveer, Manu, Gaurav, Nitibha and Omswami; while Monalisa will be the captain of Lopa, Lokesh, Karan, Rahul and Bani.
The inmates will be left with clothes made of sack to wear and use a hearth to cook food. The contestants will also be asked to leave the luxury of their beds and sleep in the garden area. Not only this, they will also use the washroom of the prison only.
However, the inmates will be given a chance to grab few essentials from the lock up. The captain of each team along with one member will be allowed to collect few essentials when the gong buzzes. But they can bring only 4 items from the box.
Not only this, the teams will also be given points on the essentials they collect. The team that scores the maximum points will lose, since they would have picked up more things from their lot.
Well, this seems an interesting task. Let us see if inmates argue over picking up essentials or not. Will the contestants choose lesser items for their team to win? Time will tell.