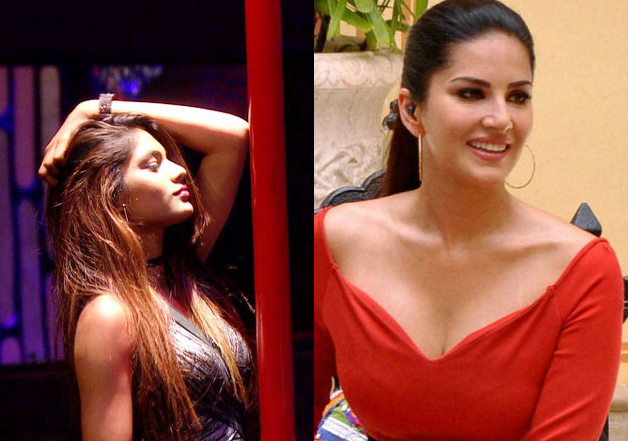 Actress Sunny Leone was all hearts for model Lopamudar Raut's pole dance performance yesterday at the Bigg Boss house. Of all the things that took place in the Bigg Boss house yesterday, it was Lopa's dance that became the topic of discussion.
For those who have no idea about what happened last night, here is an update.
Bigg Boss brought in Sunny Leone to the house and asked inmates to make videos that would impress her. The contestants were divided into two teams, led by Bani J and Lopamudra Raut. The teams were supposed to come up with ideas given the constraints set up by the Bigg Boss and the winning team would be declared immune from eviction. Since a lot was at stake, inmates did not want to risk any of it, so were seen giving their best.
Sadly, the 'best' of both the inmates was not good enough for Sunny Leone in the first round. The first set up was a 'decorated room for newlyweds' in which Gaurav Chopra, Rahul Dev and Bani (from Bani's team); and Swami Om, Manu Punjabi and Monalisa (from Lopa's team) performed. However, their act was bashed by Bigg Boss for not being suitable for public viewing.
Next the teams were asked to enact a scene in a 'tabela'. The act of Bani, Gaurav and Manveer where they enacted a scene from Deewar with a twist, was loved by Sunny, and earned the team one point.
But finally it was Lopamudra's pole dance that stunned everyone. As Lopa flipped her hair and unleashed her sensuous side in the house, she left everyone in awe.
After Lopa's performance the score in the house is equal and let us see who wins the task eventually.
The viral video task was preceded by a lot of emotional drama in the house. Monalisa, who was having a tough day in the house yesterday, was further saddened when her friend Manu backed Lopa for the pole dance competition. Manu deemed Lopa's figure more appropriate for the dance that made Monalisa cry.
With such a high start of the week, let us see what is in store for the viewers in the coming days.