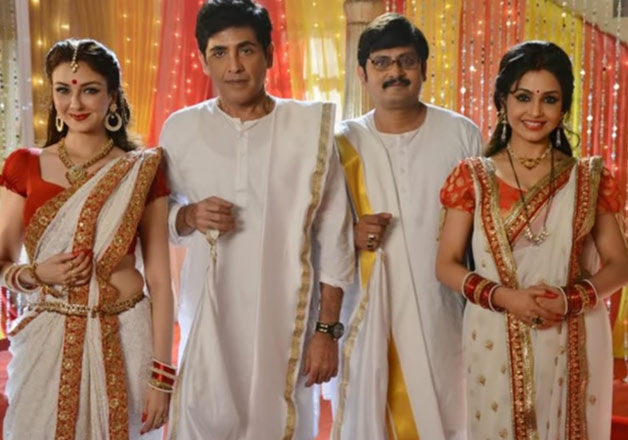 The popular rom-com show on &TV 'Bhabhiij Ghar Par Hai' will soon be having a filmy touch as the cast will be taken over by Shah Rukh-Aishwarya starrer 'Devdas' fever.
Currently, the show features a 'tu-tu main-main' between both the lead couples Angoori (played by Shubhangi Atre Poorey)- Manmohan (played by Rohitash Gaud) and Anita (played by Saumya Tandon)- Vibhuti (played by Asif Sheikh).
Their casual nok-jhok as turned into man vs women war.
Anita has kicked out Vibhuti from her house, while Angoori is quite upset with Mohandas' behaviour. She approaches Anita with teary eyes complaining about her husband's behaviour. Anita asks her not to waste her tears for these men and takes her in.
On the other hand, Mohan and Vibhuti also join hands and start pretending to be happy without their wives. Irritated with this, Angoori and Anita too plan to make their husbands go green with jealousy and hangout with their male friends.
This upsets Mohan and Vibhuti who turn into drunkards. Soon the entire set is changed into that of 'Devdas' and Mohan-Vibhuti are seen dressed like Shah Rukh Khan, wearing a dhoti-kurta in the movie holding their whisky bottles.
On the other hand, Angoori and Anita will get into the shoes of Aishwarya Rai Bachchan and Madhuri Dixit from the song 'Dola Re Dola' in 'Devdas'. Both the actresses will be seen dressed in a Bengali sari and will sport heavy jewellery.
Devdas Episode.....superrrr Fun pic.twitter.com/wLBhMHxDjK

— Shubhangi Atre (@ShubhangiAtre) September 13, 2016
This is not all, both Angoori and Anita will also dance to the popular number for their respective husbands.
We wonder if the actresses will be able to do justice with the Aishwarya-Madhuri's and recreate their magic on the small screen.