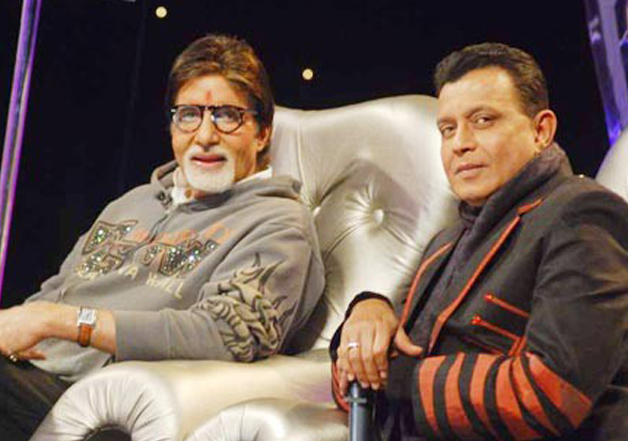 New Delhi: To err is only human, but when a megastar like Amitabh Bachchan makes a mistake, it becomes a headline. The star of the millennium today tweeted a birthday wish for his co-actor Mithun Chakraborty.
The only problem being that Mithun's birthday is not today July 16 but was on June 16. This year on June 16, Mithun Da turned 66 years old.
Unfazed by this knowledge, Big B took to Twitter to wish his 'Agneepath' co-star and wrote few words in Bengali, the mother language of the latter. Though, this says that the auspicious wish was straight from the heart, it was late by a month.  
Here is his tweet: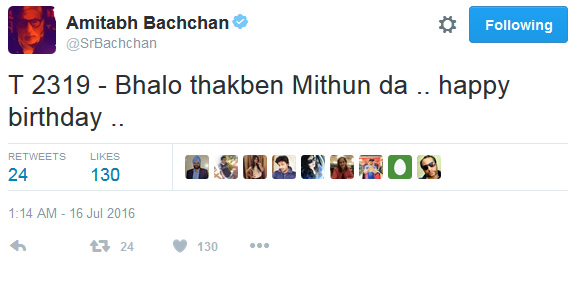 Maybe, Big B will remove his tweet once his mistake comes to his notice.
Big B and the 'Disco Dancer' have worked together in an array of movies including classic hits like 'Agneepath'  and 'Ganga Jamuna Saraswati'. The friendship of the 73-year-old megastar and the Dance king is quite famous in Bollywood.
In fact, Mithun is also one of the biggest fans of Amitabh Bachchan. In his blog once, the 'Piku' star had written that Mithun once slit his chest for him. Amitabh had met with a fatal accident on the sets of 'Coolie' and that is when Mithun did such an act.
The words on Amitabh's blog read, "A dedicated follower and one that has always been respected by the fraternity, his concern and love for all is legendary - slit his chest and took a pledge on his blood for my well being during my `Coolie` episode. How can one ever forget that?"
Well, now this statement speaks volumes about the strong bond that they share yet Big B made a mistake in remembering Mithun's birthday.
We wonder what Mithun Da will say on Amitabh's late birthday wish.