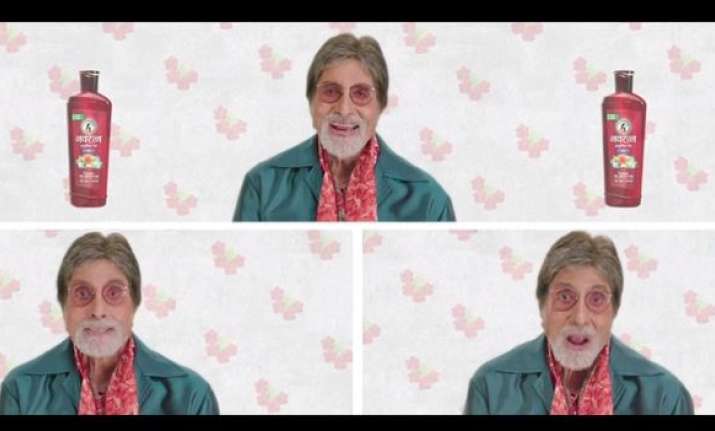 Megastar Amitabh Bachchan has such charm that it's really hard to get over him. Even a slight glimpse of the superstar makes his fans swoon over him. Big B never fails to surprise his fans with new advertisement antics and that makes him the most desirable celebrity of all time. 
This time Navratna Oil, which aims to be Emami India's one answer to all things sleeplessness, headaches, body aches and exhaustion, has launched Amitabh Bachchan in a unusual avatar of an Acapella singer.
In the Navratna Oil's music video, Big B can be seen crooning the cult song 'Sar jo tera chakraye' from the iconic film Pyaasa in an acapella style. The 75-year-old has lent his voice for this experimentation and has once again rewarded his fans with something to rejoice for.
T 2752 - An ad., I did for Navratna Tel .. all sounds done by body parts .. singing by AB .. yeeeaaahhh !!1 pic.twitter.com/4VeuJz17Na

— Amitabh Bachchan (@SrBachchan) March 23, 2018
Created by Leo Burnett Orchard and helmed by Dangal fame Nitesh Tiwari, the Navratna Acapella number sung by Amitabh Bachchan has been digitally released on Youtube today.  
Watch the video here:
Talking about the music video, Harsha V Agarwal, Director, Emami Limited, said, "Sar Jo Tera Chakraye, is one of the iconic musical hits from the movie 'Pyaasa' that people still love to hum. The song and its portrayal of a barber offering relaxing champi has a very natural correlation with our brand Navratna, which when applied for a head massage also offers instant relaxation from stress, tension, headaches and sleeplessness. It is almost as if the song had been written for Navratna only.
"We wanted to do something engaging for our consumers with this song and our brand ambassador, Amitabh Bachchan. We are very happy that he agreed to don this new hat of an Acapella singer for our brand Navratna that has every potential to make you feel relaxed and stress-free."
Speaking on the same occasion, Nitesh Tiwari, the film's director, added, "The music format of acapella is growing in popularity among the young music lovers of today. We found that the rhythm of acapella style of singing has a very direct correlation with the rhythmic sounds and actions created by barbers while giving relaxing champis to their clients." 
"Amitabh Bachchan, the brand ambassador, also got instantly enthusiastic on learning about this idea and promptly agreed to lend his voice to this experimentation. It has been a wonderful experience for all of us and we have released the music digitally to connect better with today's consumers who are digitally active and also love Bollywood music."
In 2017, the same song became quite a hit that featured Amitabh Bachchan as the 'Nautanki' style rapper, #RaahatRaja for a Navratna Oil TVC. 
On a related note, A cappella music is specifically group or solo singing without instrumental accompaniment, or a piece intended to be performed in this way. In this form of singing, the background music is usually created by beats made by the human mouth, usually one linking to the other one, like hitting the floor, then the desk, then the wall to make a beat that goes together, while actually singing the song.
Meaning "in chapel style" in Italian, acapella originated from religious music composed for use in chapels -which, unlike large churches, had no organs to accompany the song.