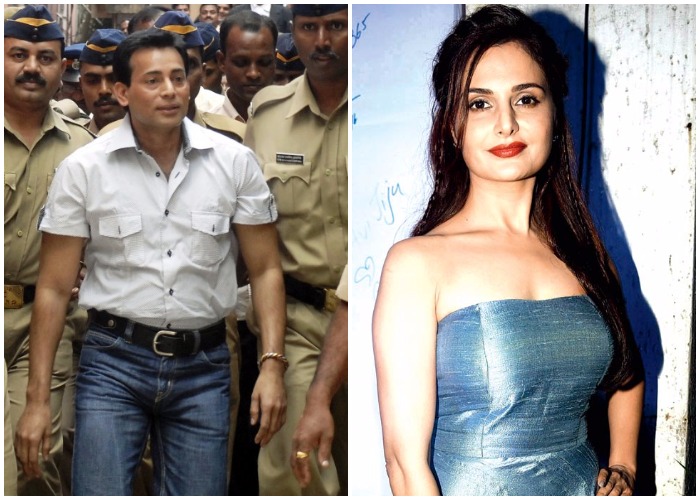 Abu Salem was sentenced to life imprisonment by a special Terrorist and Disruptive Activities (Prevention) Act court after being convicted for involvement in the 1993 Mumbai blast which killed 257 people. Two other convicts, Tahir Merchant and Feroz Khan were sentenced to death. Apart from that Salem has been slapped with a fine of Rs. 2 Lakh by the court. While Abu Salem has become the topic of discussion on the social media, some old pages of his life's book are being re-read. One of the most controversial chapters of his life is his love affair with Bollywood actress Monica Bedi. It was said that Bedi was the apple of his eye. Even Monica was head over heels in love with him. She left everything in India and went to him to spend the rest of his life with the underworld kingpin. 
In an interview with Showtime magazine, Monica Bedi broke her silence on her relationship with Abu Salem. 
How it started off between Abu Salem and Monica Bedi 
According to her interview with Showtime, she got a call from a guy in Dubai asking her to perform in his show. After a few phone calls, she started talking to him, without knowing that she was actually talking to the underworld don Abu Salem. He introduced himself as Arsalan Ali to her. 
When Abu Salem invited her for the third time, she insisted on him to come to Mumbai, but he refused making excuses.  It was during her third visit to Dubai that he revealed his true identity.  He said that he wanted to change and he was in love with her. 
Monica Bedi also expressed that he was very possessive about her and really respected her a lot. It wasn't a time-pass kind of relationship between them. She always promised her to change his ways, but his connection with crime was something that always came between them.  
It was after when Abu Salem and Monica Bedi were arrested in Portugal for forging entry into the country with fake passports, their relationship started dwindling. Salem sent her a notice asking her to accept him as a husband or divorce him. 
Abu Salem, was previously married to Samira Jumani, who was 17-year-old at the time of their nuptial. Currently, Samira  lives in Duluth, Georgia, US. In an interview, she told media that Salem was a 'violent psychotic man' and she was forced into this marriage.