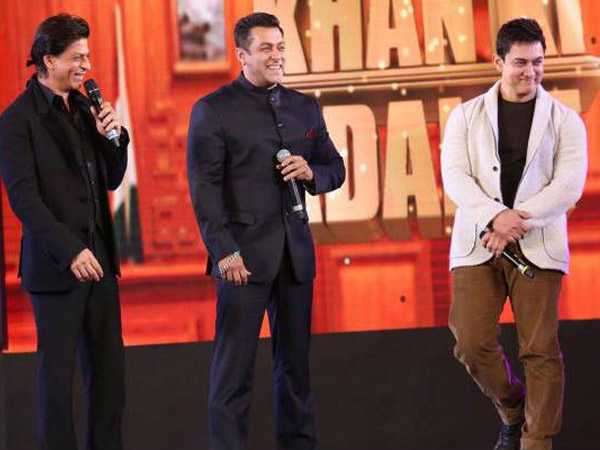 On Aamir Khan's birthday, let's remember the time from last year when Mr Perfectionist recalled his first meeting with fellow stars Salman Khan and Shah Rukh Khan. He met SRK and Salman ages ago when all three of them were struggling to make a cut in the industry. Aamir Khan shared screen space with Salman Khan in 1994-hit Andaz Apna Apna. He remembers meeting the actor at director Aditya Bhattacharya's residence, as per the Mid-Day reports.
While sharing the anecdotes of his first meeting, Aamir Khan was quoted saying, "I was at Babla's (Aditya Bhattacharya) house to discuss a short film called Paranoia, where I was the actor, spot-boy, production head, first AD - all rolled into one. We shot that film for a month. I was 15, and was acting for the first time ever, when I saw Salman cycling around on Carter Road. He knew Babla too. We stood in the balcony and talked. He told me about how he also wanted to become an actor. I thought of him as a sweet chap."
Aamir Khan and Salman Khan were classmates but they didn't know each other. Although they worked in only one film but they seem to share a great camaraderie offscreen.
Aamir Khan also recalled how he met King Khan. He was quoted saying, "I remember meeting Shah Rukh briefly when I was shooting with Juhi Chawla, somewhere on the road. He had begun shooting for Raju Ban Gaya Gentleman with her. And, his debut film Deewana hadn't released yet. He was sweet, and it was a warm meeting."
A surprising fact is that, despite being one of the most popular actors, Shah Rukh Khan and Aamir Khan never shared the screen space. The two actors met at a party last year and SRK shared a selfie with PK actor with a caption, "Known each other for 25 years and this is the first picture we have taken together of ourselves."