Congress will return to power with brute majority in Rajasthan where people are now fed up with CM Vasundhara Raje-led Bharatiya Janata Party (BJP) government, state Congress chief Sachin Pilot said on Wednesday. Pilot said sentiments of people of the state are with the Congress. 
Speaking to Rajat Sharma in Aap Ki Adalat during IndiaTV Chunav Manch show in Jaipur, Sachin Pilot said Vasundhara Raje had an immense opportunity to work for the public, however, the BJP government has failed miserably. 
Assembly Elections 2018: Full Coverage
"BJP bhagao, desh bachao' is the sentiment of people of Rajasthan at the moment. Schemes like Skill India, Make in India others have failed in the state. The BJP government brought in a 'black law' against journalists. It was the Congress which fought for the rights of journalists and forced the state government to take back its decision," the 41-year-old leader said. 
Sachin Pilot, who was voted as the most favoured CM in IndiaTV-CNX Opinion Poll conducted in October, said pointed out that differences between PM Modi and CM Vasundhara Raje hampered development in Rajasthan.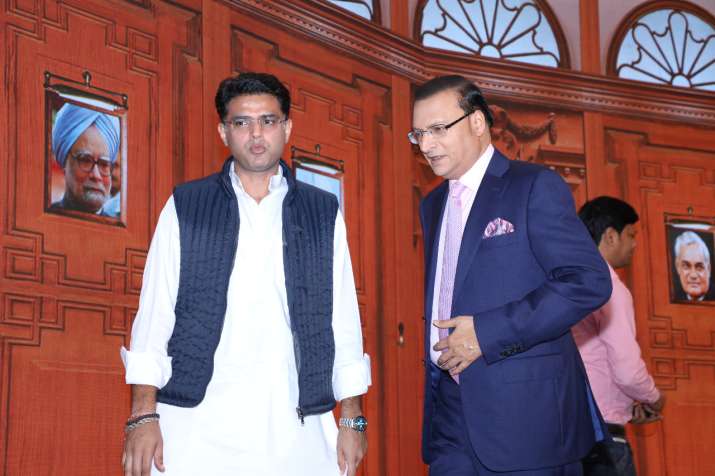 Here's what all Sachin Pilot said:
# People of Rajasthan have suffered because of differences between the CM and PM.
# Economic policies are made by the Centre, but we will work to develop favourable condition for investments. Vasundhara Raje government organised Resurgent Rajasthan and claimed investments of crores but nothing actually happened on ground.
#ChunavManch | BJP made tall promises before forming the govt in last polls, but they ruled by turning a blind eye to people's plight, claims @SachinPilot tells @RajatSharmaLive in #AapKiAdalat pic.twitter.com/PCC8h7jlY0

— India TV (@indiatvnews) November 28, 2018
# The BJP claimed to transform Jaipur into smart city, but they have failed to do so. Jaipur can be made better than cities like Nodia, Gurgaon. Yes, our focus will be on farmers but urban development will also be on top of the priority.
# There's a perception that Vasundharaji is cut off from the people of the state. Jaipur has become 'hartal' capital.
# Congress will surely form the next government and we will first work for the distressed farmers of the state. 
# My family has contested 17 elections in Rajasthan. I am not hungry for any post or contesting the election to become an MLA.
# BJP is raking Ayodhya issue only because elections are round the corner. BJP was in deep sleep since four years. Now that they have realised that their boat is sinking, they have brought up 'mandir' issue. Why the BJP is troubled if Rahul Gandhi visits temples, why Rahul Gandhi is being attacked for his temple visits?
# It needs a big heart to accept defeat. Vasundhara Raje is claiming the BJP will win 180 seats, I think she's counting seats of all three states.
# Schemes like Skill India, Make in India others have failed in the state. The BJP government brought in a 'black law' against journalists. It was Congress which fought for the rights of journalists.
# The CM of the state was born in Gwalior, came to Rajasthan after marriage, I have been raised in this soil. But no one calls her an outsider.
# Narendra Modi is PM of the whole country not a leader of any particular party. People may forget the name of PM but remember the remarks made a person sitting on the PM's chair.
# BJP highlights issues concerning caste and religion but it never talks about issues related to farmers.
# I am proud to say that there are many leaders in our party who could be the CM.
# Vasundhara Raje had the opportunity of doing plenty for the people in Rajasthan, but she has done little.
# BJP leaders will return to Delhi from Rajasthan with bag and baggage after polling.
# The CM face is no issue for the public, it's an issue only for the media. There is consensus in the party that the CM will be selected after elections.
# The Congress is within striking distance of forming government in Rajasthan. It is the BJP's propaganda to say that there is infighting within the Congress.
# The Congress, in Rajasthan at least, has never announced a CM face in the last 70 years. As far as the CM candidates is concerned, whatever the MLAs and party will decide will be accepted.
Watch full episode of Aap ki Adalat with Rajat Sharma here: