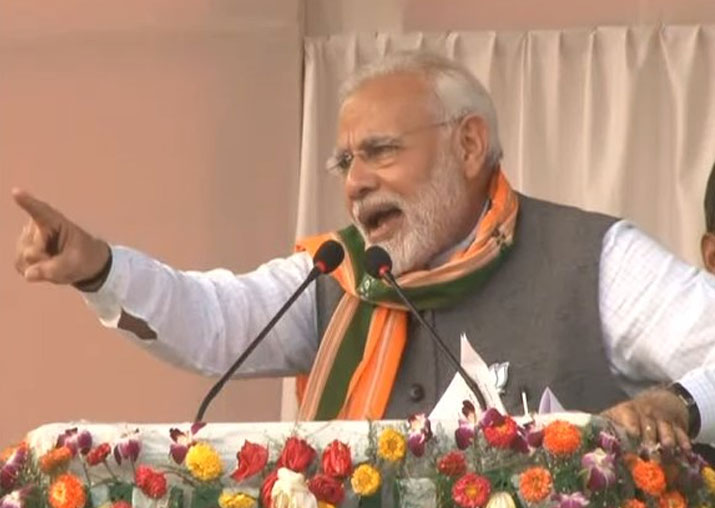 Prime Minister Narendra Modi today visited Arunachal Pradesh where he inaugurated various projects including Dorjee Khandu State Convention Centre. 
Addressing the gathering in Itanagar, the PM said, "This is more than a building, it is a vibrant centre that will further the aspirations of Arunachal Pradesh. There will be conferences and cultural activities that will draw government officials and private companies."
Modi said that for promoting tourism in the state, he will personally tell people to go to Arunachal Pradesh. The PM also announced that New Delhi to Naharlagun Express will run on two days every week and it will be named as Arunachal Express.
After this, PM Modi left for Tripura where he addresses two election rallies. Thursday is the penultimate day of campaigning before the state goes to polls on February 18. 
Here are the highlights:  
05:20 pm: New BJP government in Tripura will be the youngest in the country. Almost all BJP candidates are young. The state will benefit from exuberance and energy of the youth
05:17 pm: The arrogance of Left government has become a barrier to development and welfare of people in Tripura: PM Modi
05:16 pm: We will  provide Rs 5 lakh medical coverage to every poor family for medical treatment: PM Modi
05:13 pm: We will pay minimum wages to workers in Tripura after BJP form Govt here: PM Modi
​05:10 pm: Tripura is a small state and the state of education here is abysmal. The dropout rate of Tripura is more than the average dropout of India. The lives of around 11,000 teachers' have been destroyed. It's a crime committed against education by the Manik government: PM
4:54 pm: It's time to pay homage to brave journalists and karyakartas who have been murdered for political reasons in Tripura: PM Modi
We believe in 'Ganatantra'. But the Left government has ruined Tripura by turning it into a 'Gun Tantra': PM @narendramodi Dial 09345014501 #TripuraTrustsModi pic.twitter.com/dDQUoTaQFW

— BJP (@BJP4India) February 15, 2018
4:49 pm: Congress party and Communists have joined hand and they are two sides of the same coin. Congress is expert in corruption and CPM in violence: PM
4:46 pm: Left parties do not believe in democracy. They murdered our 10 karyakartas: PM Modi 
4:40 pm: We have to stop in traffic when there is 'Red light'. In the same manner Tripura will move on the path of progress when the 'Reds' (Left government) are removed from power: PM
PM Modi's rally in Tripura's Shanti Bazar
What is the reason that Left government in Tripura is neither ensuring the minimum wages and nor implementing the recommendations of seventh pay commission : PM @narendramodi #TripuraTrustsModi

— BJP (@BJP4India) February 15, 2018
# We want to enhance connectivity in Tripura. In our journey to build a 'New India', we also want to build a modern and new Tripura : PM
3:20 pm: Communist Party does not believe in 'gantantra' they believe in violence & 'gun-tantra': PM Modi
3:14 pm: Now the people of Tripura will not stand the Communist Party's government, bid them such a farewell that they cannot return: Modi
3:10 pm: ​People of Tripura have suffered for 25 years due to the misrule of Left party. I urge people of the state to remove them from power: PM Modi
​
20-25 साल से इन्होने जो मौज की है उसका हिसाब देना का समय आ गया है। त्रिपुरा के विकास का दरवाजा खोलने के लिए आपको 18 तारीख को बटन दबाना है : पीएम श्री नरेन्द्र मोदी #TripuraTrustsModi

— BJP (@BJP4India) February 15, 2018
PM Modi's rally in Arunachal Pradesh
11:54 am: We are working towards building medical colleges in all parts of the nation. This is because, when one studies in a particular area, they become better acquainted with the local health challenges.
11:53 am: There is so much work to do in the health sector. One aspect is human resource development, other is infra and there is also the need to use modern technology in the sector.
PM Narendra Modi inaugurates various projects including Dorjee Khandu State Convention Centre in Itanagar (Arunachal Pradesh). pic.twitter.com/6IXeWglvvh

— ANI (@ANI) February 15, 2018
11:52 am: I am personally going to tell people that they should visit Arunachal Pradesh and hold their important meetings at the convention centre.
11:51 am: I can tell you with great pride that ministers and officials from the Centre are visiting the Northeast very regularly.
11:50 am: Why should meetings only be held in the national capital? We must go to all states and that is why I came to Shillong for a Northeastern Council meeting and an important meeting related to agriculture was held in Sikkim.
11:50 am: Most of the key departments are based in the new secretariat. This makes it easier for people coming from distant villages because they do not need to move from one place to another. Everything is in one place only. Coordination and convenience are enhanced.
11:41 am: I am delighted to visit Arunachal Pradesh and be among the wonderful people of this state: PM Narendra Modi in Itanagar.
Jis Arunachal se prakaash failta hai, aane waale dinon mein bhi yahaan vikas ka aisa prakaash phailega ki poora desh dekhega: PM Modi in Itanagar (Arunachal Pradesh) pic.twitter.com/EKXyPFncoN

— ANI (@ANI) February 15, 2018
11:39 am: With a well-equipped auditorium, conference halls and an exhibition hall, the centre is expected to serve as a location for meetings, functions etc.
11:38 am: The prime minister is also scheduled to inaugurate the state Civil Secretariat complex in the state capital. Besides this, PM Modi will also launch DD Arun Prabha, a new 24×7 satellite television channel of Doordarshan for the north-eastern region.
11:35 am: He will also lay the foundation stone of the Academic Block of the Tomo Riba Institute of Health and Medical Science in the state capital.
11:32 am: The prime minister will then fly to Tripura on his second visit in two weeks to address two public meetings, one in Agartala and the other in Shantirbazar. This will be Modi's second visit to the hilly state in a week.
11:30 am: PM Modi was in the poll-bound state last week and had addressed rallies in Sonamura and Kailashahar attended by around 40,000 BJP supporters. 
11:28 am: During the rallies, PM Modi had slammed the Left government's misrule of 25 years in Tripura as the main reason for the backwardness.
11:25 am: Elections for the 60-member Tripura Assembly would be held on February 18 and results would be out on March 3. The tenure of the current Tripura Assembly ends on March 14.
WATCH VIDEO: PM MODI ADDRESSES RALLY IN ARUNACHAL PRADESH