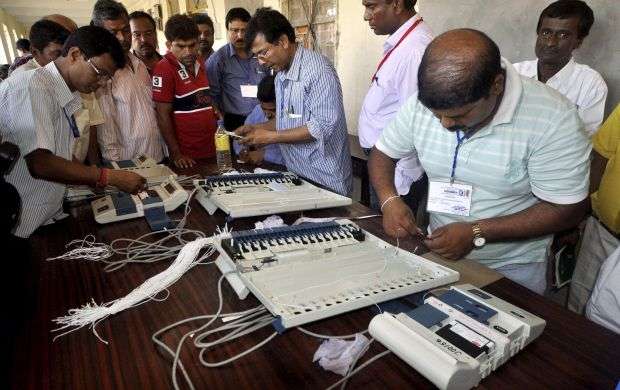 Bhandara Gondiya Lok Sabha Bypoll Result: The Election Commission on Thursday declared Nationalist Congress Party (NCP) as the winner of the Bhandara Gondiya Lok Sabha Bypoll. According to last counting reports, NCP candidate Madhukar Kukade had taken a huge lead of 12,000 votes ahead of the BJP candidate. 
The results of the LS seat, along with Palghar, was important for all four major political parties- BJP, Shiv Sena, Congress and NCP- as the outcome is likely to have a bearing on their future course.
During Monday's polling, 53.15 per cent of the total 1.76 crore voters cast their votes in Bhandara-Gondia. The voting was marred by allegations of malfunctioning in electronic voting machines (EVMs), leading to repolling in 49 booths on Wednesday. The Election Commission will revise the final figure after the data from repolling will be added. 
Retaining Bhandara-Gondia is important for the BJP since its MP Nana Patole had quit the party in December 2017 and later joined the Congress. 
ALSO READ: 4 Lok Sabha bypoll results LIVE counting: Click here for full coverage and real time updates, LIVE streaming
ALSO READ: 10 Assembly bypoll results LIVE counting: Click here for full coverage and real time updates, LIVE streaming 
The BJP had roped in Union minister Smriti Irani Uttar Pradesh Chief Minister Yogi Adityanath for the campaign. In Bhandara-Gondia, the NCP had fielded Madhukar Kukde, while the BJP had nominated Hemant Patole. Although there is a total of 18 candidates in Bhandara-Gondia, the main contest is between the BJP and the NCP. 
Congress leaders in the constituency are miffed that the party gave the seat to NCP despite Nana Patole returning to the Congress fold. Patole had defeated NCP leader Praful Patel in 2014. Patel has represented the seat earlier in the Lok Sabha. 
The BJP represents five of the six assembly segments in the Lok Sabha constituency - Tumsar, Bhandara, Sakoli, Arjuni Morgaon, Tirora, while Gopaldas Agarwal of Congress represents Gondia.