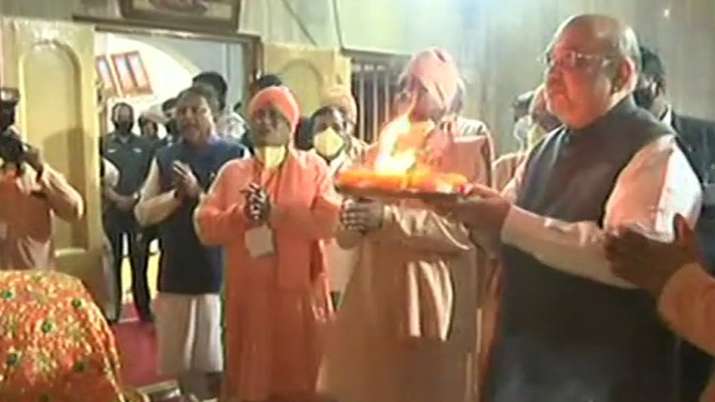 Bharatiya Janata Party leader Amit Shah on Thursday kicked-off his two-day tour of West Bengal by visiting the Bharat Sevashram Sangha in Kolkata. He performed a special aarti here and met religious leaders. The Bharat Sevashram Sangha was founded in 1917 by Acharya Srimat Swami Pranavanandaji Maharaj. The Sangha has hundreds of ashrams in India and other countries. It is known for community work, helping poor and providing healthcare to those in need. 
Speaking to reporters later, Shah said that he has full faith that the BJP will form the goverment in West Bengal after the upcoming assembly polls and when it does, the Gangasagar Mela will be made part of the international tourist circuit. The 'Namami Gange' programme for cleaning River Ganga will also be ensured in the state, he said.
Shah said, he feels sad about the facilities here since lakhs of pilgrims visit the site annually, and when the BJP comes to power in Bengal, all tourism projects of the Central government will be successfully implemented in the state.
"We will ensure that the Uttarayan Mela (Gangasagar Mela) becomes part of the international tourist circuit...this place becomes a big tourist spot, and its fame spreads across the world," he said after offering obeisance at the Kapil Muni temple here.
The Kapil Muni temple at the confluence of River Ganga and the Bay of Bengal is a mark of spirituality and conservation of environment, Shah said. 
The 'Namami Gange' programme launched by Prime Minister Narendra Modi in 2014 has been working for conservation and cleaning of River Ganga from Gangotri to Sagar, but it "gets stuck" on reaching West Bengal, the minister said.
"I have full faith that a BJP government will be formed in the state and then the purification of River Ganga through the Namami Gange project will be taken up till Gangasagar," he said.
'Namami Gange Programme' is an integrated conservation mission, approved as 'flagship programme' by the Union government in June 2014, to accomplish the twin objectives of effective abatement of pollution, conservation and rejuvenation of the Ganga.
Shah later launched the fifth and final phase of the BJP's 'Poriborton Yatra' from the South 24 Parganas district. 
On the second day of his Bengal visit, Amit Shah will pay tributes to martyrs from the state at the national library in Kolkata and attend a media conclave in the city.
The BJP and ruling Trinamool Congress, headed by Chief Minister Mamata Banerjee, are spearheading intense election campaign in West Bengal with the saffron party deploying its enviable political machinery to capture power in the state which it has never ruled. Several Union ministers, MPs and other leaders recognised for their organisational and poll management skills have been roped in by the saffron party to drive its campaign in the state, with special attention on the seats which it considers winnable.
Elections to the 294-seat state assembly are expected to be held in April-May.
READ MORE: TMC wants to turn West Bengal into Bangladesh: Suvendu Adhikari