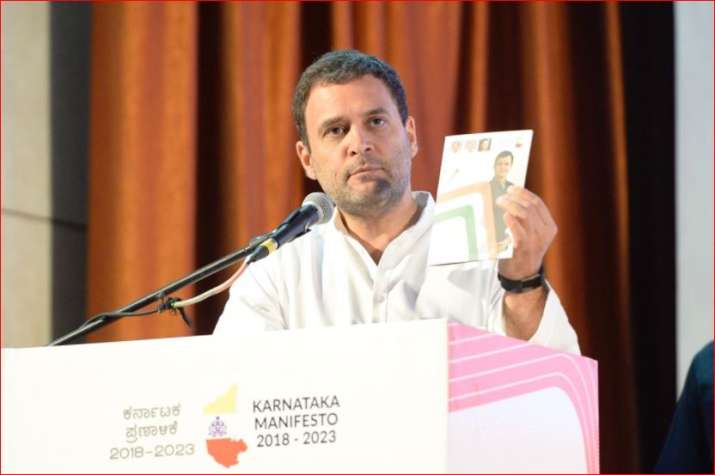 Congress President Rahul Gandhi on Friday released the party's manifesto for upcoming Karnataka Assembly Elections and promised to create one crore jobs in next five years in the state.
Karnataka Chief Minister Siddaramaiah and other senior leaders of the state were present on this occasion in Mangaluru. 
   
Speaking on this occasion, Chief Minister Siddaramaiah said that Karnataka was the top job creating state in India and it has received the maximum investments in last five years. 
"We will continue in our efforts to build a 'Nava Karnataka'," said the chief minister. 
The Congress president, while releasing the party manifesto, claimed that the Siddaramaiah government had fulfilled 95 per cent of the promises made in the manifesto released ahead of the 2013 polls after coming to power.
Taking a jibe at Prime Minister Narendra Modi, the Congress president said that the party manifesto was the "Mann ki Baat" of the people of Karnataka as it was not a document prepared by "three or four people in a closed room". 
"This is not a manifesto that has been made by 3 or 4 people in a closed room. This is made by going to every single district and every single community," Rahul Gandhi said.
"We have gone to the people of Karnataka and listened to what they want. Our manifesto is 'Mann ki Baat' of people of Karnataka," he added. 
Launching a scathing attack on PM Modi, Rahul said, "The prime minister committed that everybody will get Rs 15 lakh in their accounts but not even a single rupee came. He guaranteed a corruption-free India but so many scams have happened under his rule, whether it is Rafael, or Amit Shah's son. 
Rahul also alleged that the prime minister failed in implementing his promise of ensuring that the farmers get the right price for their yield.
Taking a dig at the BJP, Gandhi said the manifesto that the saffron party will release would not be for the people of Karnataka and reflect the views of the RSS. 
"When BJP releases its manifesto, three-four leaders will decide it. There will be hidden corruption in it. There will be the idea of Reddy brothers in it. It will be the manifesto of RSS," he said.
Karnataka is all set to witness a three-corner contest involving the ruling Congress, the BJP and the HD Deve Gowda-led JD(S) during May 12 Assembly elections. The counting of votes will take place on May 15.
Watch video: Rahul Gandhi releases Congress manifesto for Karnataka Assembly elections