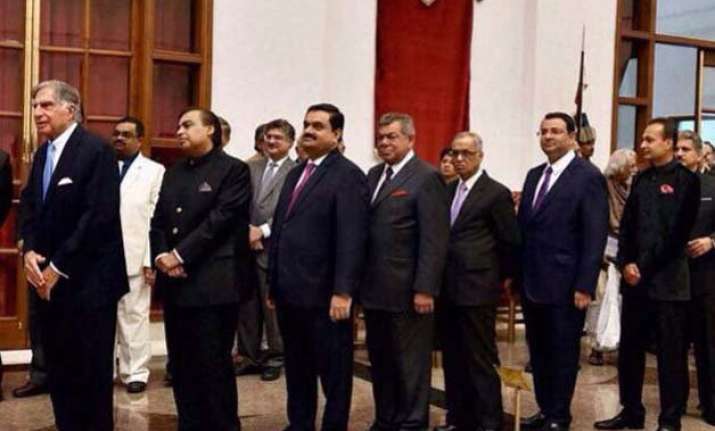 New Delhi: Scores of top Indian companies CEOs were yesterday seen queuing up at the US-Indo CEO forum in New Delhi to meet the visiting dignitary US President Barack Obama, who is on a three-day long state visit.
Top honchos like Reliance Industries Chairman Mukesh Ambani, Bharti Enterprises chief Sunil Mittal, Reliance Group Chairman Anil Ambani, Adani Group head Gautam Adani, Mahindra & Mahindra Chairman Anand Mahindra and Sudhir Mehta of Torrent Pharma were among others who were spotted standing in a queue at the summit to meet Obama.
The photo has now gone viral on social media platforms.
Yesterday, Obama and Prime Minister jointly address the India-US CEO Forum where the Indian side pitched for heavy investment in infrastructure and agriculture to boost purchasing power and grow the economy.
Obama told the forum that there was a natural convergence between the two countries and added, "I am excited that not only is the US investing in India but a lot of Indians are investing in the US."
17 Indian CEOs yesterday attended the US-Indo CEO Forum, to be co-chaired by Cyrus Mistry of Tata Sons and David M Cote from Honeywell.
Others on the forum from the Indian side included Mukesh Ambani, Anil Ambani, Anand Mahindra, Sudhir Mehta, Sunil Mittal, Gautam Adani, ICICI Bank MD & CEO Chanda Kochhar, Infosys CEO Vishal Sikka, Shashi Ruia, Chairman of Essar Group, Hari Bhartia, co-chairman and director of Jubilant Life Sciences, Biocon Chairman and MD Kiran Mazumdar-Shaw
The US team includes Indira Nooyi of Pepsico, Harold McGraw, Chairman McGraw Hill Financial and Ajay Banga, CEO Mastercard.