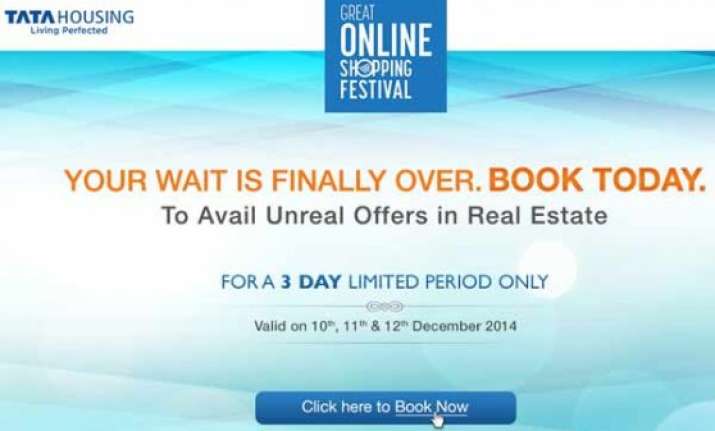 New Delhi: Aiming to tap the e-commerce market , Tata Housing will sell a luxury residential project, being developed in Bangalore at a cost of Rs 150 crore, exclusively during Google's online shopping festival starting on Wednesday.
The company will construct 75 independent homes and row housing in this 5-acre project. The price of each unit starts from Rs 3.5 crore.
Tata Housing said in a statement that it would "participate in the Google's Great Online Shopping Festival (GOSF), being held from 10-12 December, by launching an exclusive ultra-luxury project - The Cascades".
Besides this project, the company would also sell housing units of seven other projects across India. It is offering schemes and instant appreciation of prices in these projects.
Consumers can buy homes by paying a booking amount of Rs 50,000 only for all projects and they would get an instant appreciation of up to 15 per cent, Tata Housing said.
"We received a phenomenal response through our pioneering initiative of online sales of real Estate through our partnership with google last year," said Brotin Banerjee, managing director and CEO of Tata Housing, the real estate arm of Tata group.
Stating that online home buying is an emerging platform, he said the company is offering properties ranging from the affordable to the ultra-luxury segment.
In a separate statement, Tata Housing subsidiary Tata Value Homes said it would sell apartments in Boisar near Mumbai exclusively during this festival at a starting price of Rs 16 lakh. Interested customers can express their interest to book by paying Rs 20,000 online.
Tata Value Homes would also offer special one day price for apartments in its other projects across Ahmedabad, Pune, Chennai and Bengaluru starting Rs 32 lakh.