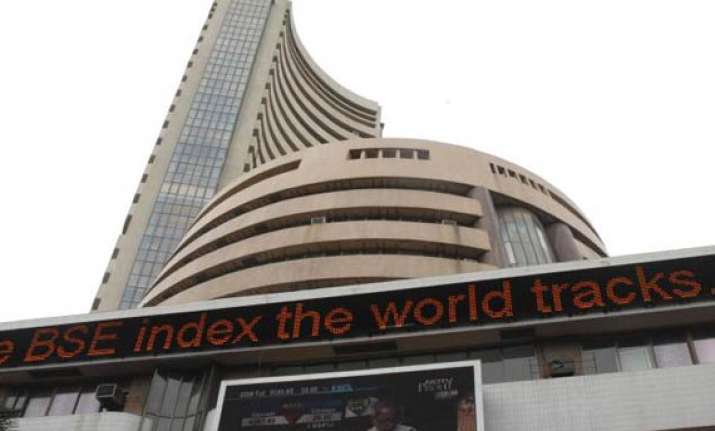 Mumbai, Dec 21: Ending a five-day downcast mood, the stock market today bounced back strongly and its barometer Sensex surged by 510 points or 3.36 per cent, helped by robust buying in banking stocks and positive cues from world markets.  

In percentage terms, the Sensex today posted its biggest one-day gain in about four months, while the 510.13-point absolute value rally was the highest in about two months.  

Blue-chips like Reliance Industries, Infosys, M&M, Bharti Airtel, TCS and L&T also generated robust buying interest and helped the market post some handsome gains towards the end of a year, which has mostly been marked with heavy losses for the equity investors.

The BSE's 30-share benchmark index, the Sensex, today settled at 15,685.21 points, ending a losing streak of five straight trading sessions, during which it dropped by 827.43 points.

Analysts said that the Indian markets benefited from a continuing uptrend in the overseas markets since yesterday as positive economic data from the US and Germany improved the outlook for the global economy.

Besides, bargain-buying in domestic stocks, which were mauled in the past few trading sessions, also helped them bounce back today, they said.

The experts, however, warned that today's rally might not be sustained unless there are some improvements on the domestic macro-economic fronts and there are yet not enough indications about any respite from a high-inflation and a high-interest-rate regime within the country.  

The markets are trading about 25 per cent below the levels seen at the start of 2011 and a traditionally strong year-end performance has so far been missing from the bourses. 

After days of weakness, robust buying was seen today in the banking, energy, consumer durables, metal, auto, IT and power stocks and all the sectoral indices closed in the green.  

In the process, the total investor wealth, measured in terms of market value of all listed stocks, rose by about Rs 1.19 lakh crore to Rs 53,79,250.96 crore.

More than half of this gain or about Rs 76,000 crore came from 30 Sensex stocks.  

Terming today's trade as a day of relief, Bonanza Portfolio's Senior Research Analyst Shanu Goel said that the overnight gains in the US helped the domestic market today.  

"Taking cues from strong global markets, risk appetite of Indian investors got a boost and gains were seen across the board, with major push given by the banking sector," Inventure Growth & Securities' Head Research Analyst Milan Bavishi said.  

"After the recent shakeout and selling in the large blue-chip stocks, there was some valued based buying seen at lower levels," Bavishi noted.

Today's 510-point rally was the biggest one-day gain since October 28, 2011, when it had risen by 515.97 points.  

Also, it was the fifth-biggest surge so far in 2011 -- after gains of 623 points on March 1, 567.5 points on August 29, 515.97 points on October 28 and 513.19 points on June 24.  

In percentage terms, it was the biggest one-day gain since a 3.58 per cent surge on August 29, 2011. So far in 2011, today's rally is third highest in percentage terms. 

Among the Sensex blue-chips, ICICI Bank was the biggest gainer with over 7 per cent surge, while Bharti Airtel, Tata Power, HDFC Bank and M&M also gained over 6 per cent each.  

Besides, heavyweights like RIL and HDFC appreciated by over 5 per cent and impressive gains were seen in the share prices of Infosys, ONGC, L&T, SBI and TCS as well.  

Only one Sensex stock, Sun Pharma, ended with a marginal loss of 0.23 per cent. Across the market also, the gainers outnumbered the losers by a wide margin.